OUSD members of SEIU 1021 go to Sacramento to advocate for 2 critical education bills
AB 1912 and 1614 would protect schools from predatory loans and closures that disproportionately harm communities of color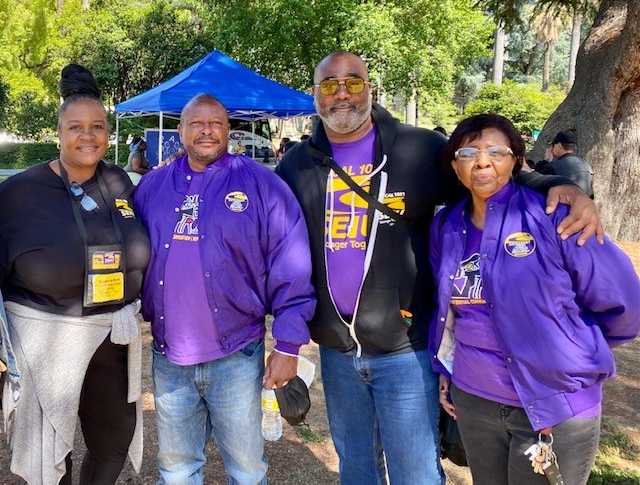 Members of SEIU 1021's Oakland Unified School District chapter headed to Sacramento last Tuesday, May 17, along with members of Oakland Education Association, community allies, and union members from other school districts, including Vallejo, Inglewood, and South Monterey County. They had a very specific mission: advocating for state assemblymembers to support Assembly Bills 1912 and 1614.
"SEIU 1021 is fighting alongside community allies for equity for our students and a seat at the table for those of us who work with them," said SEIU 1021 OUSD Chapter Vice President Donneva Reid. "The resources are there. There is more than enough funding to keep our schools open and meet the needs of all our children. We just have to speak up."
California is flush with an unprecedented $97.5 billion surplus, yet school districts like Oakland, Vallejo, Inglewood, and South Monterey County are struggling to keep schools open, in part due to debt incurred by previous state takeovers. There has been little transparency and no community input in the closure process, and Black and Latino children are bearing the brunt. It would require a minimal fraction of the state's operating surplus, an estimated $60 million, to give these districts a clean slate to operate.
AB 1912, sponsored by Assemblymember Mia Bonta, would require district school boards to conduct an equity impact analysis before approving the closure or consolidation of schools and to develop a set of metrics for the development of the equity impact analysis. They would have to make those metrics public at a regularly scheduled school board meeting to allow the public to provide input regarding the metrics being used to conduct the analysis.
Assemblymember Bonta has been outspoken in condemning OUSD's plan to close and consolidate schools in predominantly Black and Latino communities in Oakland. "We appreciated that Assemblymember Bonta acknowledged us from the floor of the assembly," said Reid.
AB 1614, sponsored by Assemblymember Al Muratsuchi, would increase the Local Control Funding Formula (LCFF) by $4.2 billion by being more in alignment with national per pupil funding rates. The new funding levels established in AB 1614 will benefit every district and help ensure that all schools can meet existing cost pressures and allow for future growth and enrichment of instructional programs for all students. The LCFF was designed to provide districts with greater discretion over how funds are utilized to educate students at the local level, with an emphasis on providing additional resources to students with the greatest needs.
In 2003, OUSD was placed under state receivership and was forced to accept a $100 million loan for an estimated $37 million-dollar deficit, which it has been repaying with interest. Despite state oversight, including the Fiscal Crisis and Management Assistance Team (FCMAT), and approval of all its budgets, OUSD has not only remained in debt, but it has also closed 16 predominantly Black schools over the past ten years.
On January 31, 2022, the OUSD school board voted, without an equity impact analysis or community engagement, to close a dozen more schools serving predominantly Black and brown students. AB 1614 would begin to address some of the long standing, systemic funding issues impacting the most vulnerable districts in our state – urban, suburban, and rural alike.
"It's unconscionable that with the kind of budget surplus California has right now, we are even talking about closing schools in Black and brown communities," said Reid. "What's missing is not money, but political will. We appreciate the leadership of Assemblymembers Bonta and Muratsuchi in fighting for what's right for California's most vulnerable students."