Old bosses, new organizing
The labor movement sees a resurgent, militant push to organize big tech, big coffee, and big food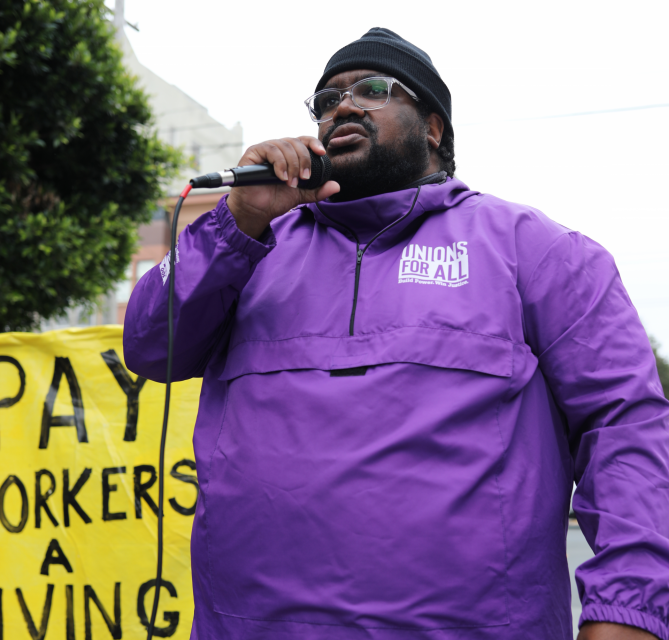 May 16, 2022: A sleeping working-class giant is awakening from its slumber. In more ways than one, the labor movement is striking back by taking on new organizing opportunities against some old foes. Nearly half a million workers went on strike in 2018 and 2019, the most significant numbers in three decades. The militancy continues with workers fighting for the right to form a union, win higher wages, and secure better benefits. The result: a strike wave and a rising tide of worker power taking down the most challenging foes.
"SEIU Local 1021 is an organizing union. We understand that in order to grow, we have to expand. Despite union density being only a little under ten percent across the United States, the past few years have been an explosion in worker militancy," said SEIU 1021 Vice President of Organizing Brandon Dawkins. "We are seeing workers take on Starbucks, a company that made over four billion dollars in profit last year, and win a union. Starbucks CEO Howard Schultz, who is worth nearly four billion dollars himself, cannot get away with business as usual. Many of these workers have dedicated years of their lives to that company, and those with less seniority want it to be a place where they can make a sustainable career. Starbucks is the leader in the coffee industry. It should also be the leader in collaborating with its partners to raise standards of living and working in the industry. New organizing requires new ideas. As the SEIU Local 1021 vice president of organizing, I'm inspired to see Starbucks Workers United run as a worker-led unionizing effort, run by people who are also working their regularly scheduled shifts."
Starbucks Workers United is not the only new organizing fight occurring. In a blow to the boss and a win for workers everywhere, Amazon got a taste of what it means for workers to join together and fight back against harsh workplace conditions.
"Can we please talk about Chris Smalls for a moment? The ultimate game-changer is successfully unionizing the Amazon warehouse in Staten Island at the JFK8 facility," continued Vice President Dawkins. "Amazon CEO Jeff Bezos is worth $140.6 billion alone. Let's get real here: He would be worth a hell of a lot less without the Amazon workers working night and day, packing up, driving out, and delivering to every customer in the world. Smalls said it best when he put South Carolina Senator Lindsey Graham in his place: 'You forgot that the people are the ones who make these companies operate, and when we're not protected, the process for when we hold these companies accountable is not working for us. Then that's the reason why we're here today.' It is imperative for us to support Smalls, the Amazon Labor Union, and workers across the country and worldwide taking on big tech and one of the most profitable companies in the world."
Coming off of a legislative win in the California State Assembly, fast-food workers are taking the fight to win a voice on the job and a seat at the table to the state senate. The objective: pass Assembly Bill 257. AB 257 is up for a full floor vote on June 9. The bill would enact the Fast Food Accountability and Standards Recovery Act, or FAST Recovery Act. Vice President Dawkins named the vital importance of the bill: "The Fight for $15 and a Union movement continues with fast-food workers rallying across California on June 9, anticipating the state senate floor vote on Assembly Bill 257 – The FAST Recovery Act. Throughout the pandemic, California fast-food workers have gone on strike at over 300 locations to make it clear that they need a seat at the table to ensure safety for themselves and their families. If AB 257 – the FAST Recovery Act – passes the state senate, and Governor Newsom signs it into law, 550,000 fast-food workers will have a voice on the job.With increased workers' voices, fast-food workers will have more political power in local and statewide politics. With the ability to explain the impact of low wages and lack of benefits at the table, fast-food workers will see higher wages, which, in turn, will strengthen our communities and local economies. I encourage all fast-food workers, community allies, and supporters to come out to our actions in Sacramento and Oakland."
You join fast-food workers at the California State Capital or at Oakland City Hall on Wednesday, June 9, 2022, for a rally and march in support of passing AB 257 – the FAST Recovery Act.