Oakland Unified School District staff unanimously approve tentative agreement
The new contract will provide much-needed ongoing raises, thousands in one-time payments, and other improvements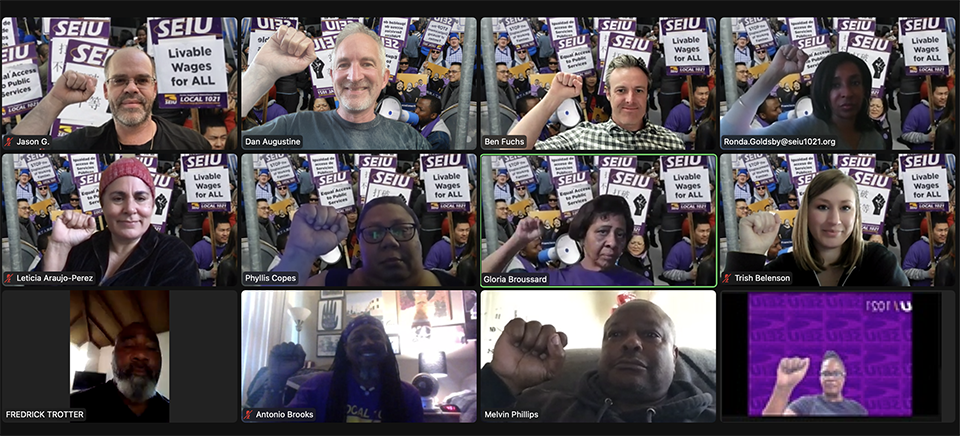 Last week, SEIU 1021 members at Oakland Unified School District voted on a tentative agreement that will provide meaningful ongoing raises; thousands in one-time payments for all members, including part-timers; COVID safety protections on the job; and more contract improvements. Members voted by 100% to approve the TA.
"Our bargaining team worked very hard to secure a strong contract for our members, who have worked hard throughout the pandemic and all the challenges and uncertainties that have come with it," said OUSD Chapter Vice President Donneva Reid. "We are very pleased that our chapter members agreed that the tentative agreement we reached values our contributions and provides the well-deserved improvements to pay and working conditions our hardworking, dedicated members deserve."
Bargaining got off to a slow and rocky start, but the 1021 bargaining team pushed forward and were proud to reach an agreement that will make the job better for everyone.
"In unity, there is strength," said OUSD Chapter President Phyllis Copes.
Highlights of the TA include:
8.25% in ongoing wage increases:

6% effective July 1, 2022
2.25% effective September 1, 2023

Thousands in one-time payments for every member, including part-timers:

6% of annual salary within 60 days of ratification;
$1,500 for all employees of 0.5 FTE or greater/$850 for all employees of 0.1-0.4 FTE;
$200 in lieu of additional stipend to reimburse for purchase of PPE (unrestricted); and
One day's paycheck in lieu of additional mental health day.
5% COVID-19 hazard pay for dozens of classifications effective immediately, through June 30, 2022

First climate crisis labor-management committee in the United States to make sure OUSD is doing its part to protect our environment and provide a safe, healthy environment for employees and students.
Expanded COVID-19 safeguards through end of 2021-22 academic year
Accelerated path to top step for hundreds of workers by reducing the amount of time to reach the top step by one year, effective July 1, 2022.
Significant additional increases for lowest-paid CDC workers.