North Coast chapters rack up strong new contracts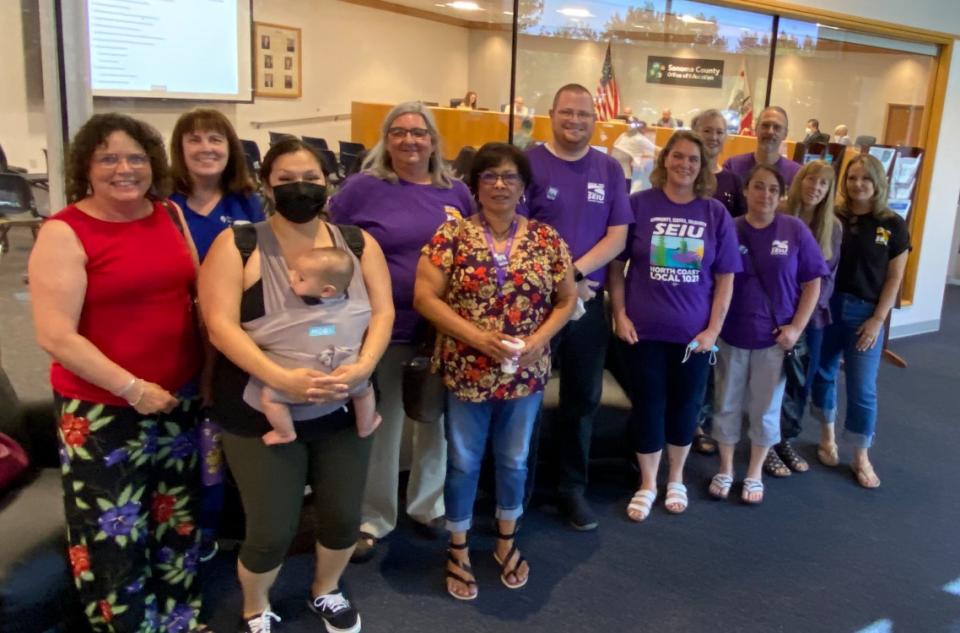 In a year where many SEIU 1021 chapters have been negotiating new contracts, the North Coast region from Marin County to Del Norte County has been scoring some important wins.
For example, the Sonoma County Office of Education (SCOE) bargaining team, with the help of members' advocacy and activism, won an impressive 24% wage increase over three years (8% per year starting July 1, 2022), in addition to one-time hazard pay bonuses of $750-1500 and improvements in contract language around non-discrimination, working conditions, layoffs, and more.
"Many members stepped up and volunteered during the 2022 contract campaign here at SCOE," said Karen Catalano, a SCOE transition teaching assistant, steward, and bargaining team member. "One such effort was our postcard campaign. We wrote personal stories about what was important to us, which were delivered to the superintendent and board of trustees. Speaking before the superintendent and board, we shared those stories while pushing for hazard pay, telework, and a respectful severance package for those facing layoffs."
Members at City of Sonoma ratified a new contract August 24, which includes an 8% increase upon ratification, with additional 2-2.5% cost-of-living adjustments (COLAs) in July 2023 and 2024; special compensation of $50 or $100 for qualifying professional credentials; and improvements to health insurance coverage.
SEIU 1021 members working for the City of Sebastopol won 8% in COLAs over two years, with a one-time $5000 bonus upon ratification for the first year and a $2500 retention bonus July 1, 2023. They also won a new holiday (Juneteenth), up to 10% longevity pay, improvements to contract language around layoffs, increases to the amount of vacation that can be cashed out each year, and improved city holiday pay and standby/call-in pay.
Town of Fairfax workers won 5% COLA retroactive to July 1, 2022, with an additional 4% COLA on July 1, 2023, as well as a $3500 one-time bonus to be paid in December. They also won longevity pay with an extra 1% every five years starting at year 10, a new Juneteenth holiday, and up to 10 days of paid emergency/evacuation leave per year.
Town of San Anselmo SEIU 1021 members won a 4.5% COLA on July 1, 2022, 4.5% COLA on July 1, 2023, and 3% COLA on July 1, 2024; a $2500 lump sum payment for all employees; the addition of a Juneteenth holiday starting in 2023; additional medical contributions from the Town for family-level coverage; paid emergency leave during disasters and evacuations; and an increased comp time bank.
SEIU 1021 members at the Central Marin Sanitation Agency (CMSA) settled a five-year contract with a 5% across the board wage increase effective June 26, 2022; equity wage increases for classifications that are paid below average; annual wage increases tied to consumer price index (CPI) in years 2023 – 2026 (minimum 1%, maximum 4.5%, to be negotiated if CPI is above 6%); improvements to vision coverage and vacation time; and more.
These victories are testament to what workers can accomplish together in their unions. The biggest wins are always achieved when the bargaining team has the full support of members at their worksites who show unity by turning out to rallies and actions; giving compelling public comment at meetings of their boards of supervisors, boards of trustees, or city councils; wearing their union gear to work; and mobilizing their coworkers to participate.