Mendocino County workers take CEO and Board of Supervisors to task over continued inaction
The County's inaction on its staffing crisis paints a picture of incompetence or indifference to the needs of its most vulnerable.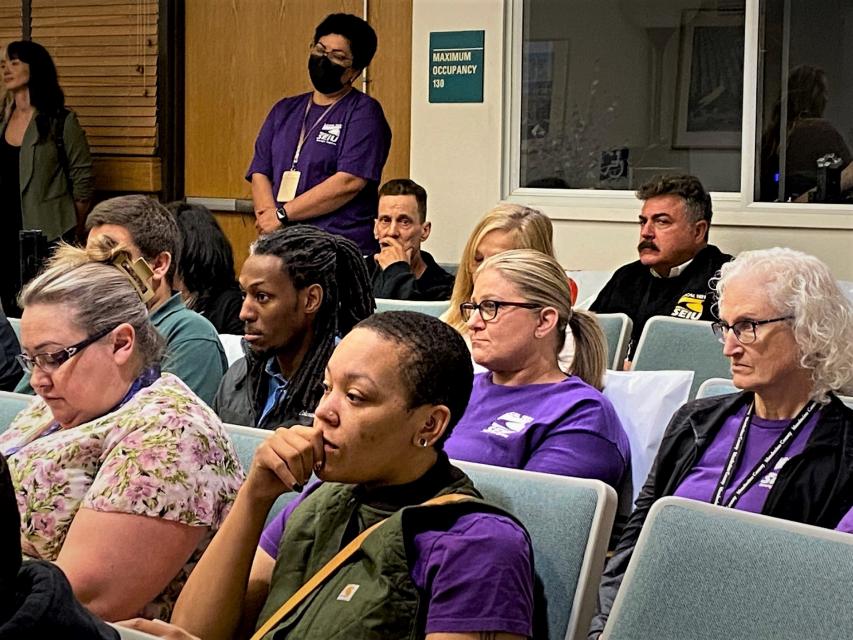 Mendocino County workers once again rallied and flooded the Board of Supervisors meeting last Tuesday, October 18, as county administration continues to claim ignorance about its budget — despite abundant evidence that its finances are healthy – and pays lip service to its workers while refusing to address the staffing crisis that is driving more and more of them away.
Budgets are a reflection of values and priorities. The County's refusal to prioritize county services and those who provide them reveals a disdain for county employees and residents alike. As overworked, underpaid, frustrated county employees jump ship for nearby counties or the private sector, critical services are not reaching the county's most vulnerable residents — at-risk children, seniors, people with disabilities, and low-income families — in a timely manner.
Time is often of the essence for these residents. This summer, an infant who was on the radar of family and children services tragically died after being abandoned outside on a day with triple-digit heat. The department currently has a 36% vacancy rate and has lost six more employees in just the last two weeks, leaving social workers with unmanageable caseloads and making it all but impossible to investigate reports and take action in every case as quickly as circumstances require.
Said Leif Farr, an SEIU 1021 shop steward and long-time county mapping/computer specialist, during public comment: "On my coffee break, I walk outside here, and I see the fantastic parking lot being built out here between general services and the administration building. Boy, that sure is one class A parking lot. What was the priority in spending money on that? As opposed to spending money on employees? That's the kind of thing that is disheartening.
"It's also very disheartening to negotiate with a negotiating team that can't make any decisions," Farr continued. "First thing off the bat, they say that the county is broke, they have no money. Well, how did they hire you? I have worked for the county for a long time and it's been a while since this problem has happened. In the past, our employees would sit down with the CEO and the human resources director and negotiate a contract. They did not hire outside firms. And we reach a compromise. But the whole structure of negotiating now is you are talking to people who have no stake in the matter. They will get their paycheck whether we get a contract or not."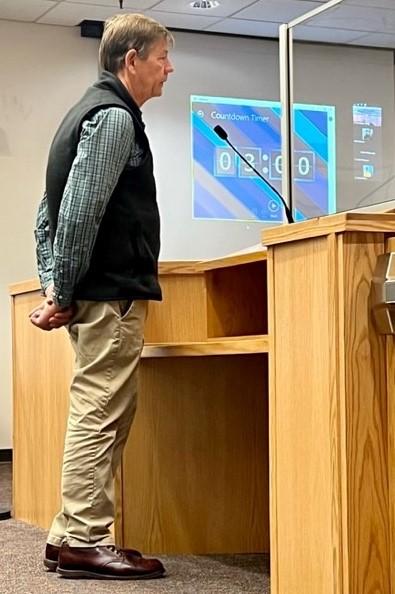 "At Tuesday's Board of Supervisors meeting, Chair Williams said he was worried that if the Board approved a reasonable COLA, it might result in lay-offs," said SEIU 1021 Mendocino County Chapter President Julie Beardsley during public comment. "I question who they would lay off? Staffing levels that are funded out of the general fund are so low if you laid anyone off, there would literally be no one to do the work. County facilities would turn into a ghost town.
"On the other hand, the people who work in social services, behavioral health, and public health are funded by state and federal money. Yes, there is a small contribution the county makes to each position, but those positions actually bring money into the county," continued Beardsley. "So there is no excuse not to have those departments fully staffed. The dithering the CEO's office and the Board of Supervisors are engaging in is totally unnecessary. And yes, it's time to put your employees before a new parking lot!"
Contract negotiations have been going on since April, with county administration stubbornly insisting, despite plenty of evidence to the contrary, that they cannot afford a cost-of-living adjustment to slow the exodus of county workers amid record inflation and a chronic housing shortage.