Mendocino County workers rally at board of supervisors, demand action to address staffing crisis
With vacancy rates as high as 67% in critical positions, the County cannot afford to lose another worker and needs desperately to recruit – but it is doing nothing to plug the drain.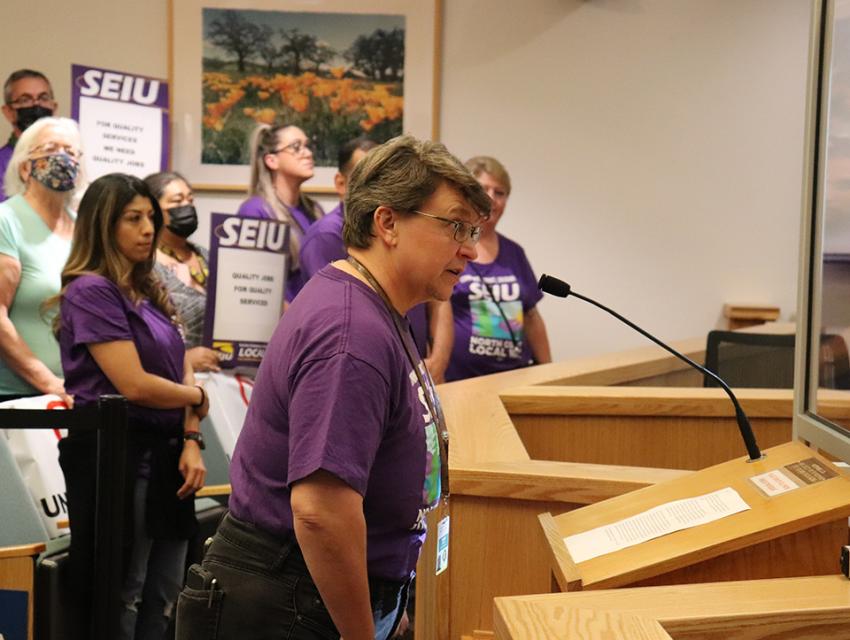 About 80 Mendocino County workers flooded the board of supervisors meeting in a sea of purple this morning, protesting the county's inaction in the face of a major staffing crisis.
Family and Children's Services social workers: 40 percent vacancy rate. Mental health clinicians: 67 percent vacancy rate. Public health nurses: 29.6 percent vacancy rate. Department of Transportation road crews: 32 percent vacancy rate. Employment and family services eligibility workers: 20 percent vacancy rate.
At a time of great need like the current moment, these numbers have real world implications for residents of Mendocino County – particularly the most vulnerable, including foster children, at-risk kids, low-income seniors, and people with disabilities, whose health and safety depend on services provided by the County.
Mendocino County workers, members of SEIU Local 1021, demanded the board of supervisors take action to make the county administration settle a contract that will address workers' concerns and make real improvements to stop the continued exodus of county workers amid a housing crisis and skyrocketing inflation.
"I've been directly or indirectly involved in training health inspectors for the last ten years. The nine or ten workers I've trained directly or indirectly, they've left for other counties," Senior Environmental Health Inspector Vincent Hawkins told the board of supervisors. "They all work other places. They were drawn away by better benefits and better pay. If you wanted, I could walk you over to the cubicle where I work and show you three empty seats. Those three empty seats should be filled with coworkers to go out and do the job with me. I get emails from my former coworkers throughout the state who say, 'Come work with me,' and the pay is twice as much."
"The County currently has an overall vacancy rate of 27 percent and some departments are up to 40 percent," said Mendocino County Chapter President Julie Beardsley, a senior public health analyst. "Why does Mendo County have such a high vacancy rate? We pay below-market wages, which makes it difficult to fill positions, and employees in understaffed departments are buried under excessive workloads so they end up leaving, burned out. The result? Long wait times for things like building permits; insufficient staff to enforce regulations and collect revenues; over-worked, burned out staff resulting in less effective services for county residents.
"Nearly half the unfunded positions could be paid for with state and federal funds, bringing money into the county. The county needs to bring wages up and hire more staff to provide the services residents expect," Julie added.
Heidi Corrado, a program administrator and the county's public health emergency preparedness coordinator, said, "County employees have regularly risen to the occasion, sometimes at 2am, and put in the hours to keep our residents safe. One way counties and municipalities have been showing appreciation for employees is through the ARPA funds. This was one of the listed purposes of ARPA. Mendocino County received ARPA funds, but so far, the administration has said nothing, made no proposals, while watching public employees in other counties being acknowledged.
"The pandemic isn't over," Heidi continued. "Fire season is pretty much year-round now. We have concurrent disasters. We are the boots on the ground. We are the faces your county constituents see when they need services from this government. We are your right and left hands in an emergency. We know the challenges around recruitment, hiring, retention, because we are the ones still here. We are still making sure the work is done, because it's needed. These employees, human beings, this family of coworkers, have sacrificed and come to work, even when they themselves were evacuated and living in a shelter, worked from home when they were sick with covid—it's true that you cannot buy that kind of work ethic. It's true you cannot buy that kind of loyalty. But it should be rewarded."