Mendocino County workers fill Board of Supervisors meeting to protest continued inaction
As the Board of Supervisors and county administrators point fingers over budget chaos, county workers continue to provide vital services against impossible odds every day. But how much longer can they wait for solutions to the staffing crisis?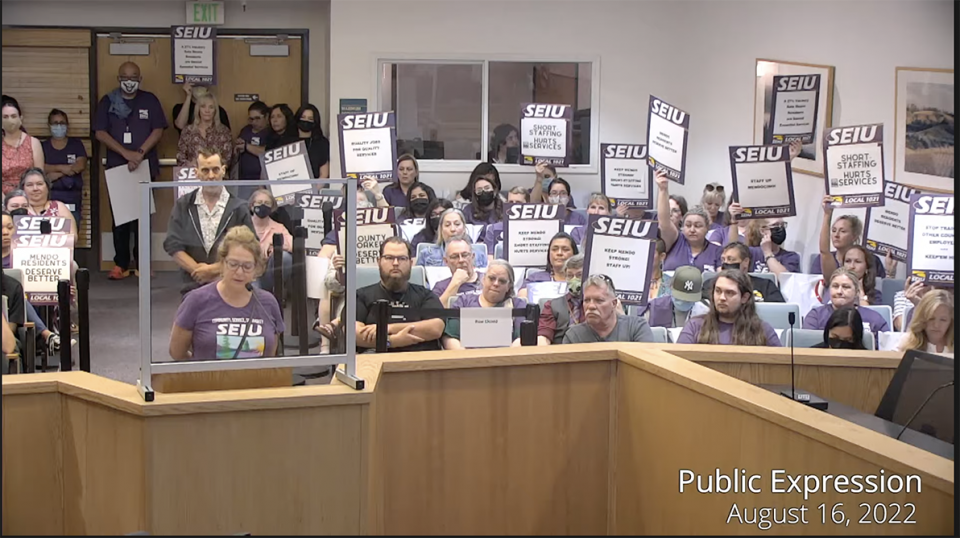 Public disputes among members of the Mendocino County Board of Supervisors and the county administration over the reliability and accuracy of the budget have reached a fever pitch. County workers are still waiting for the Board to take action to protect services amidst a worsening staffing problem. With an overall vacancy rate of 27%, it is clear that the county is very short-staffed – but certain crucial classifications are short by as much as 40 to nearly 70%. As frustrated, overworked, underpaid county workers continue to flee to neighboring counties that pay better and the private sector, the county's most vulnerable residents pay the price.
That price will grow increasingly steeper if administration does not take urgent action. They must show they are serious about retaining the employees they still have and recruiting for classifications with the most decimated ranks. While short-staffing in private businesses like restaurants and stores means that customers may have to wait longer for a meal or to check out, in county services it means that at-risk children cannot be monitored as closely as needed; that roads connecting rural residents to medical care and groceries cannot be maintained properly; that families in desperate need of assistance cannot get an appointment with an eligibility worker.
Last Tuesday, August 16, county workers once again filled up the Board of Supervisors meeting to demand accountability – and action. About 120 members of SEIU 1021 packed the auditorium to overflowing, with many lining up to address the board directly about their concerns, frustrations, and fears about the impacts the staffing crisis is already having on services for at-risk children, seniors, people with disabilities, low-income families, and more.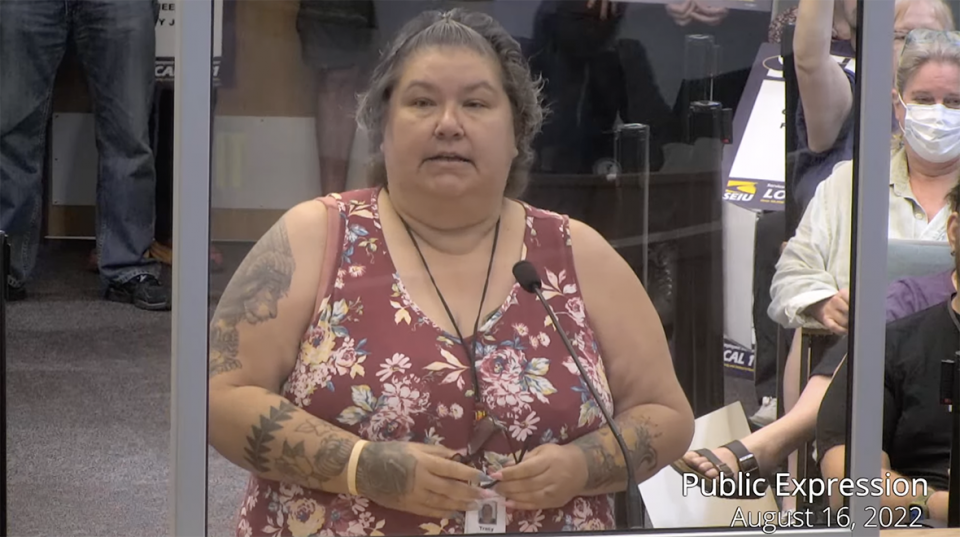 Tracy Wright, a county employee who is also a board member and treasurer of the Sherwood Band of Pomo Indians Tribal Council, said, "I have been an employee with the county for 22 years…Last year I was going through cancer, I worked three months under chemo because I didn't want my work to fall on my coworkers. That's the kind of dedication and family we have here. But we can't keep it because you won't pay us what we are worth. We are not asking for you guys' salary. We are asking for a decent salary. … A lot of the people in this room are starting out here, so they will get their training and then they will be gone. Eventually I will leave because it's just not worth it. When I start losing money to work that's when I will be gone. That's where we are going…All we ask is for you to give us a fair shake and stop hiding behind not knowing. If you don't know, shame on you! Because she (pointing at CEO Antle) should be giving you the answers to any questions you have. If we were all sitting here listening to citizens of this county complaining about us not doing our job, you guys would be all over us. And she's not doing her job. You need to get on her. That's the final line."
"In 2019, the Board realized how desperate the situation had become, how far below market value our salaries were, and authorized a 9% increase over the three year term of the contract. That helped. But they are still way below market value and we struggle to retain employees," said SEIU 1021 Chapter President Julie Beardsley, who is a senior public health analyst for the county. "Now with the current contract negotiations with the San Francisco law firm the county has hired, we are told there is no money for a cost-of-living adjustment…We have requested several solutions to affording a modest 5% cost-of-living adjustment in times of 9% inflation. The county has not brought forth a single recommendation or idea of how to support employees or increase recruitment.
Julie continued, "We have examined the budget and your claims of having no money; it just doesn't add up. So stop pointing fingers. Instead of being risk-averse, what we need is leadership…Let's stabilize our workforce by providing a COLA, recruit for the non-general fund and revenue-producing positions, and grow the county budget. Falling behind in employee compensation will result in a lack of services, phones not being answered, long wait times for permits… And it will put the most vulnerable in our county at risk. Your Board needs to step up and make the people who make this county work your priority."
As other counties have negotiated multi-year contracts with at least 5% COLAs per year, Mendocino County has continued to maintain that it cannot offer a COLA at all. Yet an examination of budget to actuals for the past several years reveals that the County has routinely underestimated its revenue, particularly its sales tax revenue, which has exceeded projections by a minimum of 6% each year since at least 2017-18 and as much as 112% in 2018-19. Property taxes and hotel occupancy taxes have also been consistently underestimated in budget projections.
Mendocino County media are also picking up on the inconsistencies. Read more from KZYX Public Radio here.