Marin Water staff ratify strong new contract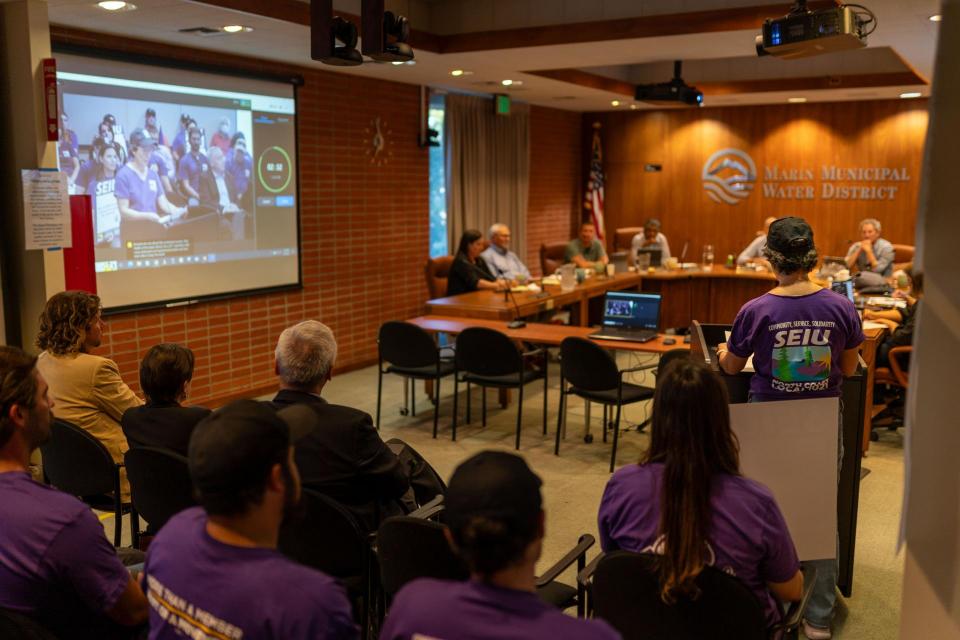 Tuesday, October 24, SEIU 1021 members at Marin Municipal Water District voted 80% to ratify a strong new contract – with significant increases in wages, health and welfare benefits, holidays, and vacations.
Marin Water staff's fight for their new contract was hard fought. Initially, the District had proposed severe cuts to Marin Water staff's contract, including a proposal to do away with Marin Water staff's right to binding arbitration – a foundational union right. These proposed cuts would have made the District's recruitment and retention efforts of these highly specialized workers even more difficult.
Despite the District's egregious proposals, Marin Water staff stood united and executed a strong contract campaign. Marin Water staff confronted the District Board during Board meetings, held an informational picket, and overwhelmingly passed a strike authorization vote.
Highlights of the new agreement include:
COVID-appreciation payments for each employee;
Gaining Juneteenth as a holiday, as well as an additional floating holiday;
Protecting the right to binding arbitration;
Increases in vision reimbursement, orthodontia reimbursement, tuition reimbursement, life insurance, meal allowance, uniforms, etc.; and
Significant pay increases (with retro payments).
Marin Water staff are thankful that the District realized that these improvements to the contract will ultimately address the Water District's recruitment and retention issues.
SEIU 1021 Marin Water Chapter President Mariette Shin, an information systems analyst for the water district, reflected, "Our contract bargaining was successful because of clear communication: the communication among our unified union membership who stood up and fought for what we felt was equitable and fair; the frequent and thoughtful communication among our dedicated bargaining team; and the regular communication of our members to the District."
The hardworking staff of the Marin Municipal Water District – including chemists, watershed rangers, electricians, maintenance workers, and emergency response crews – keep 100% locally-sourced water safe and flowing to nearly 200,000 customers. They manage and protect MMWD's 22,000 acre watershed and perform more than 155,000 quality tests a year to ensure Marin's water ranks among the best in California. In addition, they protect one of the most biodiverse habitats in California, providing refuge for more than 400 species – some that are endangered.