Marin Water Staff flood Board of Directors meeting to protest district's resistance to negotiate fair contract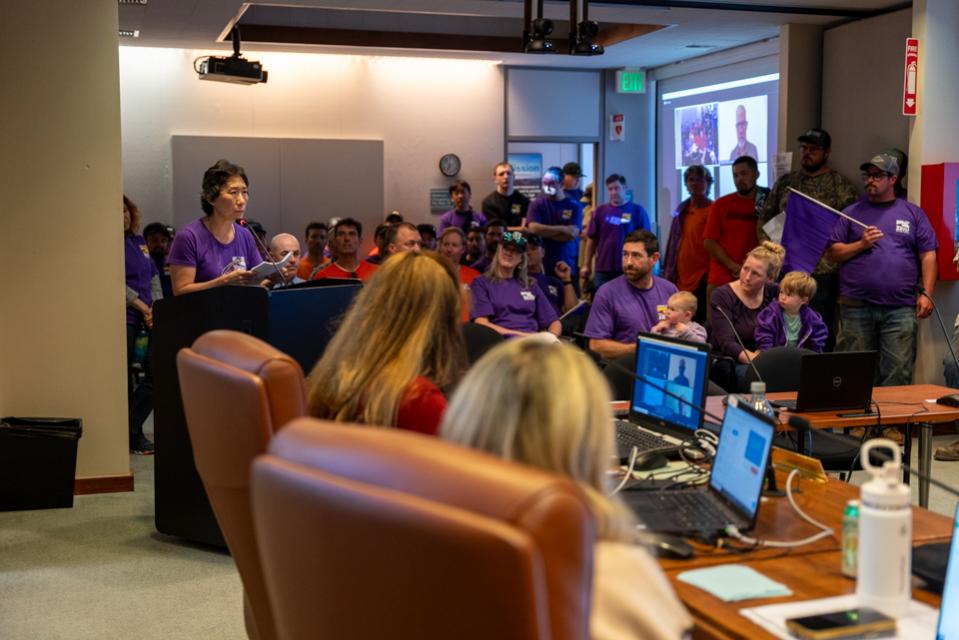 While salaries for the highest paid Marin Water positions of District General Manager and District Council have been allowed to keep up with the consumer price index, the Marin Water Board of Directors has left the frontline workers behind.
Currently, 80% of employees live outside of the Marin Water service area because they can't afford the high housing costs of Marin. This inequitable situation has made it more and more difficult for Marin Water to recruit and retain the best workers. To top it all off, the Board of Directors is proposing to take away basic union employee rights to appeal and arbitrate.
After several years of hardship through employee disengagement, short staffing and high levels of employee attrition, hardworking Marin Water staff are fed up.
On Tuesday July 11th, more than 70 Marin Water staff – a supermajority of the bargaining unit – marched on the Board of Directors meeting to protest the District's resistance to negotiate a fair contract.
"The Board of Directors are asking its frontline workers to take an effective pay and benefit cut, while they've given the highest paid managers at the District competitive salaries and lifetime retiree health benefits without requiring even a single year of minimum service time," said SEIU 1021 Chapter President Mariette Shin, an Information Systems Analyst for the water district. "The Board must negotiate equitably and thoughtfully so that the District can continue to recruit and retain high quality staff."