La Clínica workers hit the sidewalk in a show of solidarity with their bargaining team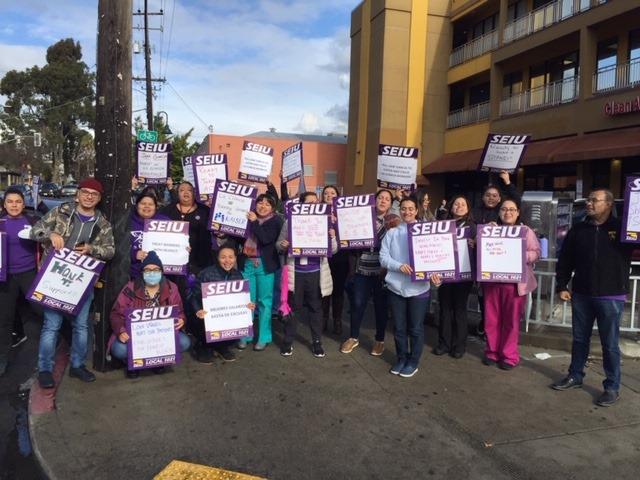 On the heels of a successful strike authorization vote, SEIU 1021 members at La Clínica de la Raza turned up the heat in their fight for a contract by holding a powerful unity break outside their offices on Wednesday, November 27.
"For tens of thousands of families across Northern California, we are one of the only options people have for the health care they desperately need," said Angel Valdez, Layout Graphic Designer and La Clínica SEIU 1021 Chapter President.
"After months of negotiations, La Clínica executives and negotiators have shown how little they value the care, support, and sense of community SEIU 1021 workers provide to patients and clients in times of need. It's shameful that CEO Jane Garcia and La Clínica management refuse to put the needs of our community first by providing the adequate staffing and resources workers need to care for our patients," Valdez added.
La Clínica staff provide an array of critical services to residents of Alameda, Contra Costa, and Solano counties, with an emphasis on serving patients in a culturally and linguistically conscious manner. Those services include medical, dental, pharmacy, vision, and dental care, as well as behavioral and mental health care, case management, nutrition education, and more.
SEIU 1021 members at La Clínica have been in bargaining for nearly six months. Although members have authorized the bargaining team to call for a strike, they remain hopeful that management will come to their senses and agree to do right by patients and staff.