Join SEIU 1021's Lavender Solidarity Committee at Oakland Pride: September 9 & 10!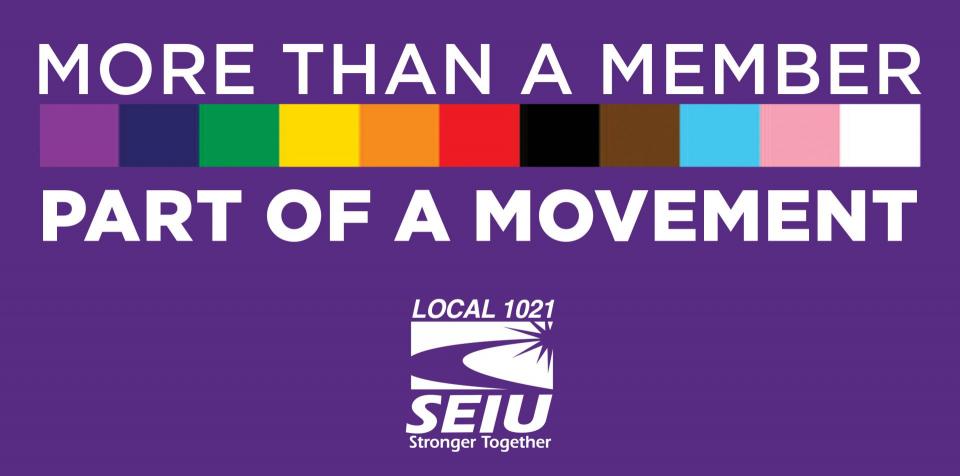 Members of SEIU 1021's Lavender Solidarity Committee will be out and proud at Oakland Pride from September 9 to 10!
SEIU Local 1021 is a proud sponsor of Oakland Pride.
"I hope SEIU 1021 members actively participate in Oakland Pride this year. We are expecting a bigger contingent than we've had in previous years and a livelier booth at the festival," said Eileen Berkun, chair of the Lavender Solidarity Committee. "We want people to have fun while we showcase our commitment to diversity, inclusivity, and social justice."
The Lavender Solidarity Committee is a sub-committee of the SEIU 1021 Social and Economic Justice (SEJ) Committee.
Since 2010, Oakland Pride has been an influential coalition dedicated to educating the greater Bay Area and promoting equality, social justice, civic involvement, and responsibility within Oakland and neighboring communities.
"Oakland Pride provides a platform for labor unions to visibly align themselves with a movement that advocates for rights and recognition, similar to the battles we ourselves have fought," expressed Berkun. "By joining this event, we stand in solidarity with the LGBTQIA+ community and reinforce our union's values of equality and fair treatment for all."
Oakland Pride events celebrate Oakland's rich and diverse queer community, support Oakland's BIPOC-owned and run businesses and nonprofits, and highlight the resources available to the community through a series of events throughout the year that lead up to Oakland Pride weekend, which includes a festival and parade.
SEIU 1021's Lavender Solidarity Committee will participate by running a booth at the festival and marching in the parade.
"Oakland Pride's emphasis on unity, advocacy, and celebration resonates deeply with the principles of labor unions," Berkun continued. "This event allows labor union members to showcase their collective support for equal rights, amplify their influence on broader social issues, and connect with like-minded activists. In the spirit of camaraderie and festivity, participation in Oakland Pride enables labor union members to not only champion their own causes but also to stand as allies in the ongoing pursuit of a more inclusive and equitable society for everyone."
This year, Oakland Pride and Pridefest Oakland have joined forces to create a sponsorship of strength and respect while elevating their unified mission to celebrate and support the cultures and diversity of the LGBTQIA+ community in Oakland and the surrounding Bay Area. These organizations have cemented their sponsorship to provide unified support for each other, the LGBTQ+ community, and Oakland so that every marginalized voice can be heard.
Saturday, September 9, will see a variety of events for the whole LGBTQIA+ community and its allies. Beginning at 11 a.m. on Sunday, September 10, Pride will focus on the parade down Broadway from 14th Street to 21st Street. The celebration will continue from 12 to 6 p.m. with more festival activities, including high-powered performances from Deborah Cox on the main stage and Diana Reyes and Regina Voce of Drag Race Mexico on the Latin stage.
For more information on how to get involved with SEIU 1021 at Oakland Pride next month, please email Lavender Solidarity Committee Chair Eileen Berkun at eberkun@comcast.net.