Historic Inflation Reduction Act passed by US Senate will help working people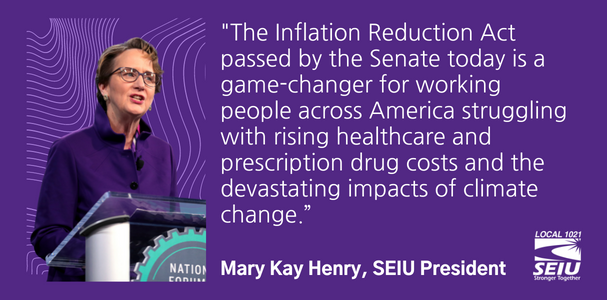 This weekend, the US Senate passed the Inflation Reduction Act. This bill makes a historic down payment on deficit reduction to fight inflation. It will invest in domestic energy production and manufacturing, as well as reduce carbon emissions by roughly 40 percent by 2030.
The bill will also finally allow Medicare to negotiate for prescription drug prices and extend the expanded Affordable Care Act program for three years, through 2025. This will lower healthcare and prescription drug costs for millions of Americans, marking an important step toward putting people before corporate profits in America's healthcare system.
SEIU 1021 members across Northern California understand how important it is to take urgent action to address the causes and symptoms of climate change. Last year, delegates to our convention overwhelmingly voted to support the Environmental Justice and Climate Action plank of our platform. We continue to grapple with triple-digit temperatures and wildfires that are devastating many of our communities.
"The Inflation Reduction Act passed by the Senate today is a game-changer for working people across America struggling with rising healthcare and prescription drug costs and the devastating impacts of climate change. And it is truly historic – putting us on a path to a 40-percent reduction in carbon emissions by 2030, paid for by giant corporations that have been making record profits and without poison pill anti-immigrant amendments," said SEIU International President Mary Kay Henry. "[This] vote gives SEIU's 2 million members and worker leaders new hope and momentum as we head to the polls to fight for an inclusive economy with good, union jobs and a government that works for all of us. And when we vote, we will remember who stood with us in this moment and who stood with big corporations."
Read More here: https://www.seiu.org/2022/08/seius-henry-historic-inflation-reduction-act-passed-by-u-s-senate-is-a-game-changer-and-builds-momentum-for-the-broader-change-workers-demand