Help fight off a Bay Area traffic nightmare
Tell your elected official to support SB 532 to keep transit safe, accessible, and reliable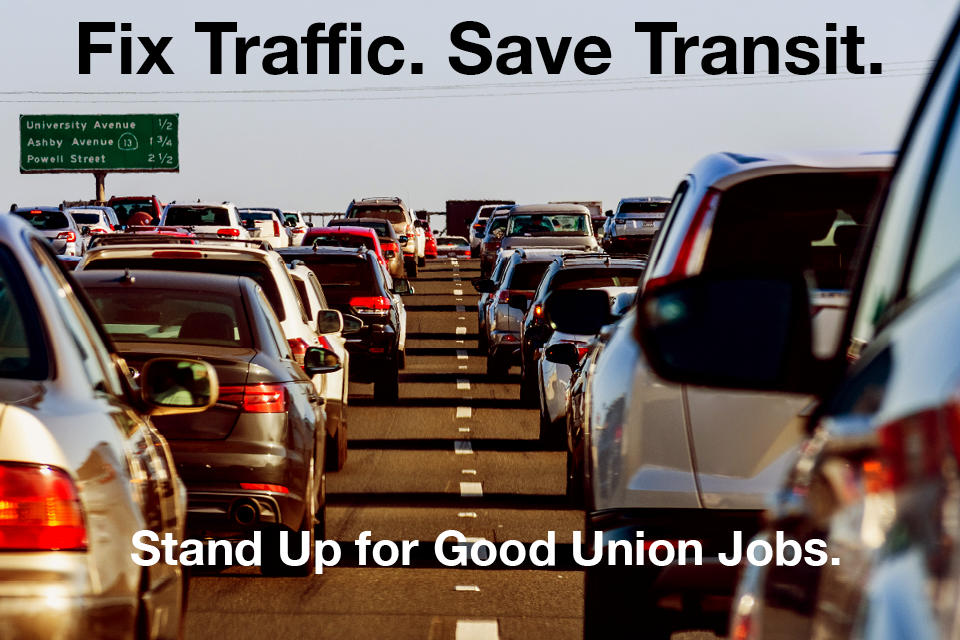 Public transit systems in the Bay Area, including AC Transit, BART, and SF Muni, are facing a fiscal cliff due to declining revenues from riders. Without an infusion of revenue, these agencies will be forced to implement drastic cuts that will hurt Bay Area residents who depend on public transit, harm efforts to reduce air pollution, and cost SEIU 1021 members at Muni and BART their jobs.
That's why 1021 members need to speak up in favor of Scott Weiner's legislation, SB 532, which will bail out these agencies with a small, temporary bridge toll to keep public transit running and keep Bay Area traffic nightmares from getting even worse.
BART Chapter President John Arantes, a transit vehicle mechanic, said, "Public transit is the lifeblood of the Bay Area. It's how SEIU 1021 members get to work, saving them time and money on parking, commuting, gas, and more. We need to stick together to get SB 532 passed to keep public transit in the Bay safe, accessible, and reliable, while we work to keep the system properly funded for the long term."
Without SB 532's funding, public transit agencies will need to make cuts like schedule restrictions, with limited hours, fewer trips, and no weekend service; increased fares; and closing stations. This would increase an already bad traffic situation on our roads and bridges; harm commuters; starve small businesses of patrons; worsen pollution; cost jobs; and hurt kids, seniors, people with disabilities, and others who cannot drive.
Urge your elected officials to support SB 532 to reduce traffic and ensure a transit system that works for working people!