Hear ye, hear ye! The labor movement goes medieval.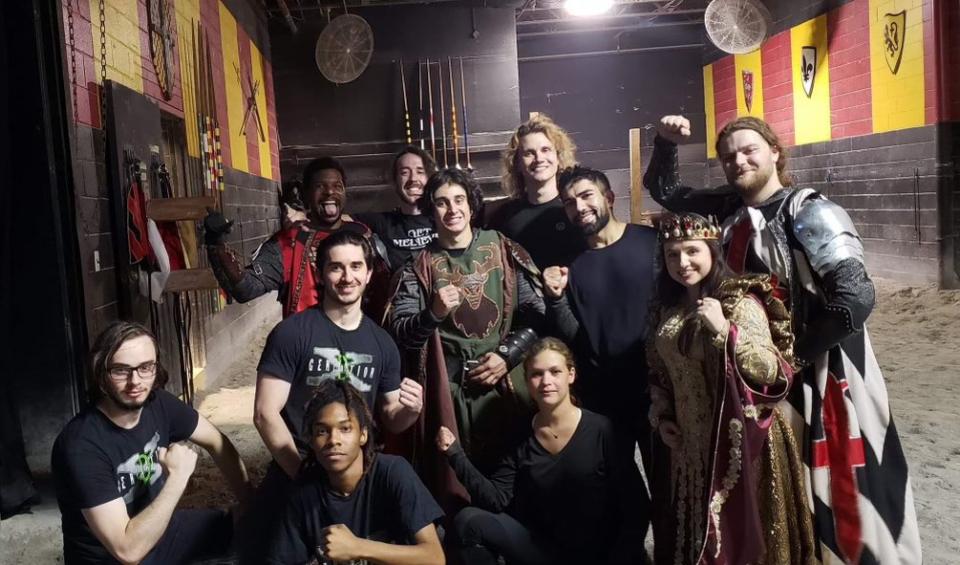 Imagine, if you will, strolling through an eleventh-century Spanish town. A towering person donning knightly armor, including a helmet, cuirass, gauntlet, and shield, stands before you. In a deep voice, the knight, a loyal servant and defender of the Kingdom of Castile, demands,"Are you part of the American Guild of Variety Artists?"
An atypical question for an atypical time, but not in the early twenty-first century when workers at the Medieval Times Dinner and Tournament theater are beginning a unionization effort. Earlier this month, workers at Medieval Times, a dinner theater featuring staged medieval-style games, sword-fighting, and jousting, won an election with National Labor Relations Board at the theater's Lyndhurst, New Jersey, location. The 26 workers voting in favor of a union to the 11 who voted against was a blowout, easily overcoming an anti-union campaign by the Medieval Times company.
Jonathan Beckas, a worker who portrays a knight, distilled down the reason for unionizing: "I am a knight, but I'm also a human." Medieval Times workers take physical risks, face harassment from patrons, and are overworked while being acutely underpaid. Beckas himself dealt with an injured knee and two head injuries, including one that involved taking a wooden lance to the head.
The union effort is not limited to New Jersey either. Just last Friday, July 22, Medieval Times workers at the Buena Park, California, location filed an election notice to unionize with the NLRB to join the American Guild of Variety Artists.
Jake Bowman, an employee who works as a knight at the Buena Park location, clarified the stakes with the union campaign: "As cool as it is that I get to wake up every day and pretend to be a knight, it is a ridiculously dangerous job. I really want to get this point across: It is not safe what we're doing right now, and not healthy. And I love this job."
To show that the campaign had broad support, Buena Park workers gathered signatures from a "supermajority" of the employees in just five days.
The new wave of unionization efforts across the United States is no longer just limited to the technological present and future of Amazon and Apple, but to the medieval past.