HealthRIGHT 360 workers join rally to end overdoses at SF City Hall
The rally aimed to raise awareness of the overdose epidemic in SF--and how the renewed War on Drugs is killing people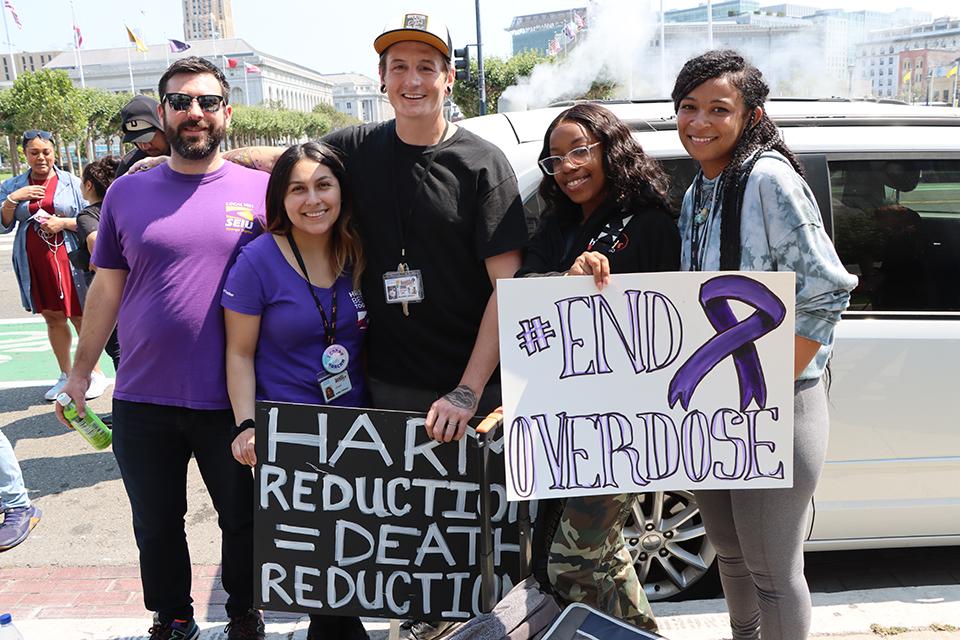 Last Thursday, August 31, on International Overdose Awareness Day, over 100 advocates and community members rallied on the steps of San Francisco City Hall. They protested public policies that are failing to address the city's overdose epidemic and advocated for real public health solutions. SEIU 1021 members from HealthRIGHT 360, a nonprofit organization providing integrated primary medical, mental health, and substance abuse care across California, joined the rally.
Speakers, including people who use drugs, community activists, and representatives of organizations that serve people who use drugs, called on elected leaders to follow through on promises to open supervised consumption sites. They also called them out for pushes to resurrect policies of the failed War on Drugs, which led to mass incarceration without slowing the flow of drugs or rates of addiction or overdose.
"Overdosing is something we can prevent through public health, through de-stigmatizing drug use, and through giving people the services they need," said SEIU 1021 shop steward Graham Smith, who is a mental health therapist for HealthRIGHT 360. "Stigmatizing anything creates silence, and silence is where the overdoses come in. If we can educate the public and the greater community, I think we can lower overdoses. We need to increase funding, and we need to treat workers doing the work better so that we can help raise San Francisco back up."
Toward the end of the rally, participants stood on the steps holding photos of local people who have died of overdoses or in ways directly or indirectly resulting from the War on Drugs, such as suicide and health conditions related to substance abuse.