Gov. Newsom signs AB 257 into law on Labor Day in major victory for fast-food workers
Fast-food workers win one of the most important pieces of labor legislation since the National Labor Relations Act of 1935.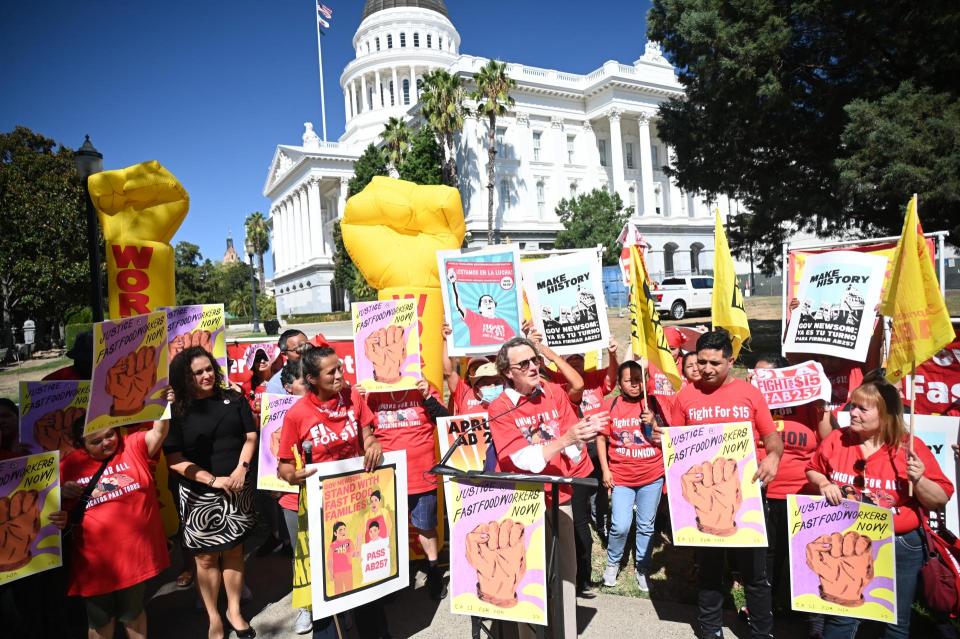 When a mass movement of workers comes together, nothing is impossible. Assembly Bill 257, the Fast Food Accountability and Standards Recovery Act, or FAST Recovery Act, passed the California State Senate last Monday, August 29, 2022. The next day, the California State Assembly re-approved the bill.
The passage of AB 257 is a watershed moment in United States labor history, marking a significant victory in fast-food workers' decade-long fight for fair pay and a voice on the job. AB 257 will protect and empower California's half-million fast-food workers — nearly 80 percent of whom are people of color, more than 60 percent Latino, and two-thirds women – with a voice on the job through a Fast Food Council, which will have the power to set industry-wide standards around wages, health, safety, and training.
In their years-long fight to win a voice on the job through AB 257 – the FAST Recovery Act, California fast-food workers have waged more than 400 strikes and filed nearly 300 health, safety, and wage complaints with local and state agencies, painting a stark picture of an industry in crisis and compelling lawmakers to take action.
In May 2020, McDonald's workers in Oakland went on strike after being told by managers to wear doggie diapers and coffee filters as masks. The workers stayed on strike for over 50 days, shutting down the store and marking the longest McDonald's strike in U.S. history. In August 2021, the workers won a legal settlement setting up a first-in-the-nation worker safety committee at McDonald's.
In July 2021, a group of female Jack in the Box workers in Sacramento asked their manager to fix a faulty air conditioning unit amid a triple-digit heat wave. Their manager responded that they were only feeling hot because of "menopause." The workers then had to strike to fix the AC unit.
In June 2022, 14 fast-food workers and supporters were arrested while protesting outside the Jack in the Box headquarters in San Diego. The protests came after a litany of complaints lodged against Jack in the Box across California, including an incident in which a store manager told a worker with COVID-19 symptoms, "Just wear a mask and don't tell anyone."
With more than 550,000 workers across more than 30,000 locations, California's fast-food industry stands out as one of the state's largest, fastest-growing low-wage workforces.
"Ten years after 200 fast-food workers walked off the job in New York City and galvanized an international movement of workers demanding fifteen dollars an hour and union rights, the passage of AB 257 is the most significant advance in workers' fight for fairness on the job in a generation," said Mary Kay Henry, the international president of the Service Employees International Union. "Workers from coast to coast are stepping into their power, and they'll take their fight to any company in any industry. It's time for corporations like McDonald's, Amazon, Starbucks, and Delta to come to a national bargaining table to raise standards across their industries and ensure every worker is respected, protected, and paid a living wage."
"The passage of AB 257 is a step in the right direction, but we need to pass one final hurdle," said Brandon Dawkins, the vice president of organizing for SEIU Local 1021, at a rally held by fast-food workers with the Fight for $15 and a Union movement in front of an Oakland McDonald's. "The hurdle is that Governor Newsom must sign the bill and says he stands with working people. So, Governor Newsom, we urge you today to sign AB 257. Let us know that you support working families. Let us know that you support the workers, because the workers are the reason why you're sitting in Sacramento at the present moment. So we ask that you take that power that we, the workers across California, gave you and stand behind the fast-food workers so they can have a seat at the table and a voice on the job. When workers are under attack, what do we do? We stand up and fight back."
Later, on Monday, September 5, 2022, Labor Day, California Governor Gavin Newsom signed into law AB 257 – the FAST Recovery Act.
"California is committed to ensuring that the men and women who have helped build our world-class economy are able to share in the state's prosperity," said Governor Newsom. "Today's action gives hardworking fast-food workers a stronger voice and seat at the table to set fair wages and critical health and safety standards across the industry. I'm proud to sign this legislation on Labor Day when we pay tribute to the workers who keep our state running as we build a stronger, more inclusive economy for all Californians."
That's a Labor Day victory indeed!