Good jobs, clean air, and statewide solidarity are on the agenda for SEIU's Climate Conference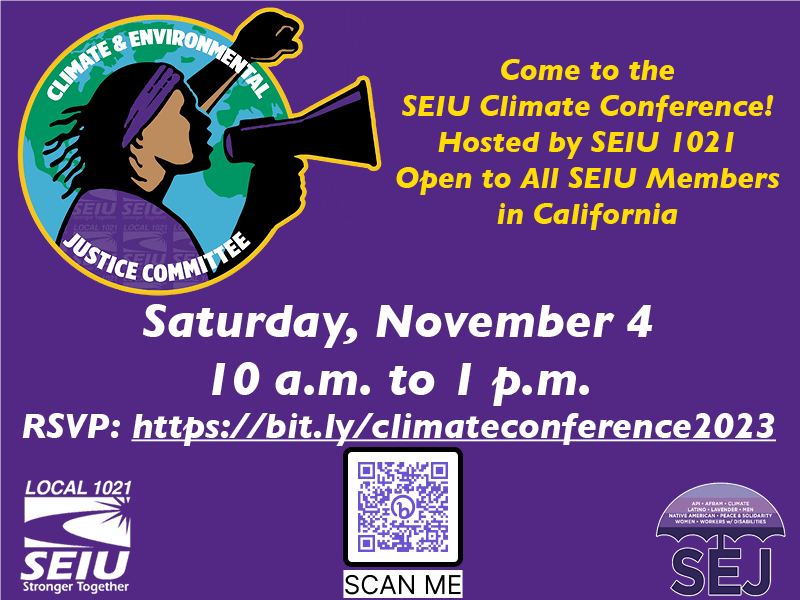 "We are facing an existential crisis, and that's why we need to meet now, not in the future! I'm very excited to meet other SEIU members from all over California on November 4." says Eddie Isaacs, a classified bargaining unit representative for consumer and environmental protection and chair of the SEIU Local 1000 Environmental Committee. He's just one of the people who will be attending the SEIU Climate Conference on Saturday, November 4, and he hopes to see you there.
The conference will present best practices, challenges, and successes in union work in solving environmental problems to help our members at work and in our communities. Longtime labor leader Tefere Gebre, former executive vice president of the AFL-CIO and current chief program officer of Greenpeace USA, will deliver the keynote address.
Gebre says, "I know that the workers' movement is going to be crucial in actually solving this problem. We have been fed wrong choices and wrong narratives for years. Either we have to take good paychecks, family-sustaining paychecks, or choose to breathe clean air. I don't think that's a choice."
Also on the panel will be a member of SEIU-USWW, who will be discussing the environmental health impacts of emissions, which they are subjected to as as an airport worker, and USWW's campaign to get California to regulate airline emissions, and, from SEIU 721, Maribel Castillon, discussing the Exide campaign and StandLA.
As Gebre says, "Here's the core of it: There ain't going to be any jobs on a dead planet."
So if you want to speak up for good, safe jobs that help working families thrive, RSVP for the SEIU Climate Conference today.