Gig workers continue the fight against the unconstitutional Proposition 22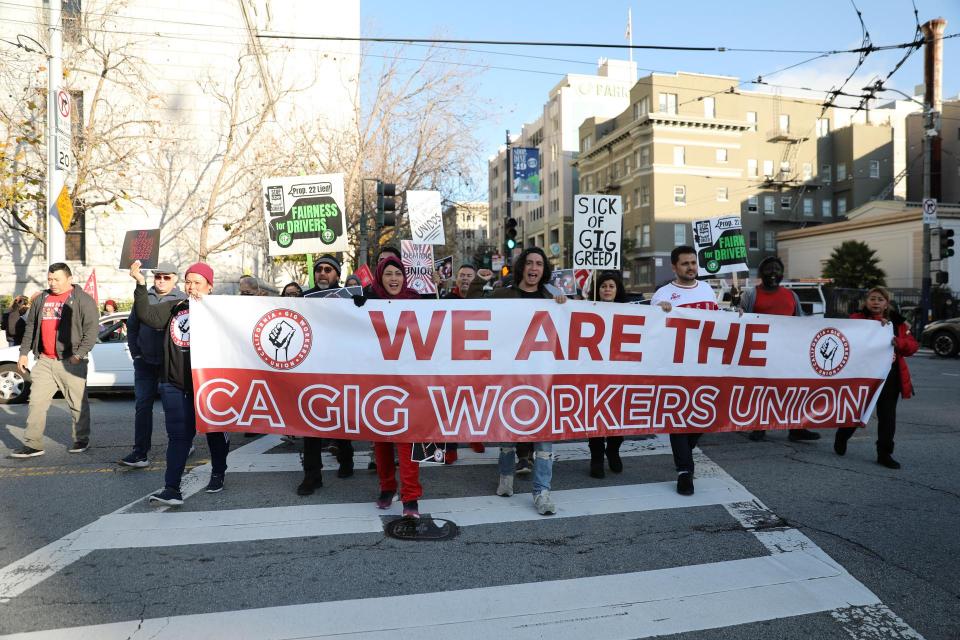 In August 2021, the Alameda County Superior Court ruled that Proposition 22 violated the California Constitution. On December 13, the California Court of Appeals heard oral arguments in the gig corporations' appeal of that ruling. Out in force were hundreds of gig workers, community supporters, allies, coalition partners, and public officials supporting workers' rights.
Prop 22 was a prime example of corporate overreach that subverts our democracy. To pass 2020's Proposition 22 in California, gig corporations like Uber, Lyft, and DoorDash spent $240 million to distort our democracy. Gig workers with the newly-formed California Gig Workers Union filed a lawsuit challenging Proposition 22, which is now making its way through the appeals system after the Superior Court Judge initially sided with workers in August 2021.
"We won't be intimidated by corporate greed," said Brandon Dawkins, the vice president of Organizing for SEIU Local 1021. "We won't rest until gig workers have the same opportunities other workers have to have a seat at the table with their employer. SEIU 1021 has always supported California drivers' fight for better wages, safer working conditions, and their fundamental right to join together in a union. We won't rest until they have a seat at the table with their employers. That's why this lawsuit against Proposition 22 is so urgent. It's an unconstitutional attack on drivers' right to organize and collectively bargain. It unconstitutionally deprives drivers of workers' compensation. It's an unconstitutional corporate power grab."
The California Court of Appeal is expected to issue a decision within ninety days after the date of the oral argument. If the losing party challenges the appellate court decision, they will file a petition for review with the California Supreme Court. The California Supreme Court may deny review, meaning the appellate court decision would stand or grant review, which would mean roughly another year of litigation.
Despite the gig corporations' promises that Proposition 22 would protect gig rideshare drivers and delivery workers and preserve flexibility, the reality is that Proposition 22 stripped workers of fundamental rights, trapped them in poverty and working long hours to make ends meet, and eliminated their right to join together in a union.
"Report after report has come out showing that these gig corporations are struggling to recruit and retain drivers," Dawkins continued. "With the low pay and difficult working conditions that these workers are facing, this comes as no surprise. Ensuring that these workers have decent pay, the rights, and protections most other Californians have on the job, and a union, is how we can make sure that gig drivers aren't just treated fairly but that the gig economy is sustainable and serves the interests of our communities."
"I've been organizing and speaking out against the injustice that gig drivers and delivery workers have had to deal with for five years now," said Hector Castellanos, a gig worker and a leader with the California Gig Workers Union in Northern California.
Castellanos was hit by another driver while working a few years ago, and his shoulder required surgery. It was so bad that he had to stop working for eight months. Despite being essential workers, gig workers like Castellanos lack many of the rights and protections that cover many California workers, including the ability to bargain for safer working conditions. Unfortunately, Proposition 22 prevents them from bargaining for better benefits and pay.
"I want to share my story about Proposition 22 and why I'm fighting against it. Because Proposition 22 lets the gig companies stop gig workers from getting workers' compensation, I was left without a way to provide for my family when I got in an accident driving for Uber. My shoulder was really hurt, and I had to get surgery, and I wasn't able to drive. My daughter had to drop out of college to help us pay our family's bills. But I'm not just fighting for myself. I'm fighting for my fellow drivers and delivery workers, as well."
"More and more gig workers are getting sick and tired of the gig companies mistreating us, and the world has started to open its eyes to what the gig economy is all about," persisted Castellanos. "Uber, Lyft, and Doordash say that driving for them is just a side job that people use to make a little extra money. But that's not true. For so many of us, it's full-time jobs. It's been a long and difficult struggle, but each day we continue to fight and stand up – for ourselves and for one another – we grow stronger and move closer to the day when gig workers can finally have a union and be treated with the respect that we deserve."