First-ever SEIU 1021 Latino Heritage Celebration is a rousing success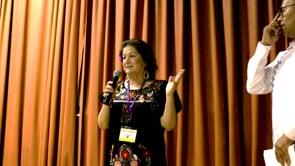 Hundreds of SEIU 1021 members and their guests flooded Just Dance Ballroom in Oakland last Friday, October 6, for SEIU 1021's first-ever Latino Heritage Celebration in honor of Latino Heritage Month. Organized by the newly formed SEIU 1021 Latino Caucus, it was a memorable evening of culture, food, music, performances, dancing, solidarity, and fun.
"We had a great turnout at our first ever SEIU Local 1021 Heritage Latino Month Celebration!" said Latino Caucus Co-Chair and SEIU 1021 Executive Board Member Angel Valdez. "The members who attended the event had a great time. Everyone enjoyed the food, the performers, and the camaraderie. It was gratifying to see members join us from places as far away as Sacramento and the San Joaquin Valley. All in all, the event was a great success and we're looking forward to start planning for next year!"
Event attendees enjoyed live performances of ballet folklórico and salsa; delicious fajitas and pupusas from Cinco TacoBar; raffles of tablets, speakers, gift baskets, and more; a photo booth with plenty of fun props; remarks from SEIU 1021 President Theresa Rutherford and Assemblymember Liz Ortega; and plenty of time to dance to the wide variety of music the DJ was spinning, from bachata to the Cupid Shuffle.
They also got to learn about a couple of unsung Latina labor heroes: Luisa Moreno and Emma Tenayuca, who appeared alongside the much more well-known César Chávez on the special limited-edition T-shirts and the programs.
"A lot of times we hear about great people with name recognition, like Cesar Chavez and Dolores Huerta, but we know that we have Latinas that were working even before them to make working conditions better for workers," explained Angel Valdez.
One major goal of the event was to encourage SEIU 1021 members to join the Latino Caucus. Co-chair Judy Martinez said, "We've got a new formation going, and this is our first event, and we're really excited about it. There's more to come. We want everyone to sign up for the Latino Caucus!"
Did you miss the celebration? Not to fear — after a strong start, it will be coming back next year!
In the meantime, why not get involved? Sign up to join the Latino Caucus here!