Felton workers march to speak out on issues, fight for union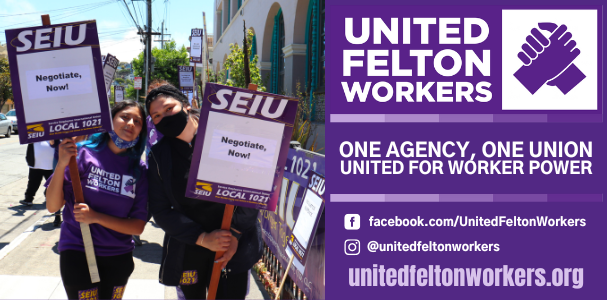 Last Wednesday, July 27, workers at the Felton Institute marched and rallied at a lunchtime break action outside the Felton Institute's Family Developmental Center building in San Francisco to speak out on the understaffing and burnout issues they are facing.
In this current time of great need, these worker shortages have real-world impact for the clients the Felton Institute serves – particularly the most vulnerable, including autistic and medically fragile children, pregnant and parenting teens, special-needs children, and uninsured or low-income families, whose care and safety depend on services provided by the Felton Institute and its workers.
These workers are fighting to unionize under unfavorable working conditions.
"I've been working at Felton Institute for 15 years. I think we deserve better workers' rights and pay. We're here today to stand up for the right to negotiate for ourselves like other unionized educators," said Priscilla Tran, E.I.T.A. for Felton Institute.
Felton workers plan to continue to do lunch break solidarity actions at different worksites while they continue negotiation with management.