Fast-food workers turn up the heat, fighting for a FAST Recovery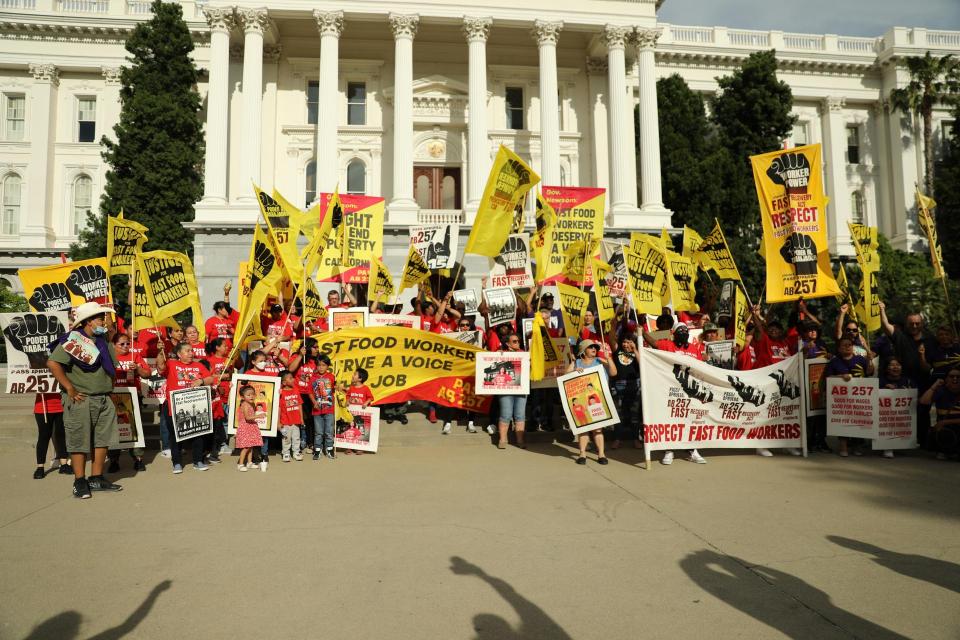 As the heat turns up in fast-food restaurant kitchens across California, so does the fight to pass Assembly Bill 257 in the California State Senate. AB 257 would enact the Fast Food Accountability and Standards Recovery Act, or FAST Recovery Act.
The bill is a monumental piece of legislation for fast-food workers. It would create a first-of-its-kind industry standards board and give workers a seat at the table with global corporations like McDonald's, Burger King, and Jack in the Box to set industry-wide standards like wages, benefits, and working conditions.
To win the game-changing pro-labor legislation, state senators must follow the lead of state assemblymembers by passing AB 257 - the FAST Recovery Act.
Organizing with the Fight for $15 and a Union movement, fast-food workers are also putting pressure on California Governor Gavin Newsom. The California governor has an opportunity to launch a landmark economic equity campaign for 550,000 fast-food workers throughout the state by passing AB 257.
"Enough with the disrespect. Enough with the hostile environments," says Karina Narinian, a Burger King worker. "Enough with sexual and verbal harassment. Legislators have an opportunity to put an end to the mistreatment of fast-food workers. Vote yes on AB 257 – the FAST Recovery Act!"
In June alone, fast-food workers held over 100 strikes throughout California. Through worker-led actions in the streets and the halls of the California State Legislature, the labor movement is fighting back against exploitation. Fast-food workers are standing together and saying NO to poverty wages, dangerously hot temperatures in kitchens, and harassment from bosses.
"What do I want from my place of employment? Peace and a supportive, cooperative environment," says Evelia Domingo, a Jack in the Box worker.
By passing AB 257, the governor would:
Raise standards for fast food service workers in California - of whom 80% are people of color, 60% Latino/a, and 2/3 women;
Give local franchisees and workers the ability to hold multi-billion-dollar fast food corporations accountable for better workplace standards and public safety;
Create an economic model that will uplift low-wage, predominantly immigrant workers in the state;
Connect policy to progressive values and show that California knows how to lead the nation with innovative solutions that tackle rising inequality.
Perla Hernandez, a Burger King worker, encapsulates the struggle fast-food workers face and the importance of passing the FAST Recovery Act: "Throughout the pandemic, I've been ignored by my bosses. Throughout my career, I've been ignored when I raised safety concerns by companies in my industry. I won't be ignored. AB 257 will ensure California's fast-food workers cannot be ignored."
Fast-food workers plan to continue the fight into August by holding several actions throughout California, including in Sacramento. From August 15 to 17, fast-food workers will conduct a 48-hour vigil in front of the state capitol building to honor all the fast-food workers who lost their lives on the job throughout the pandemic.