Fast food workers go on strike to say "Stop the referendum: come to the table NOW!"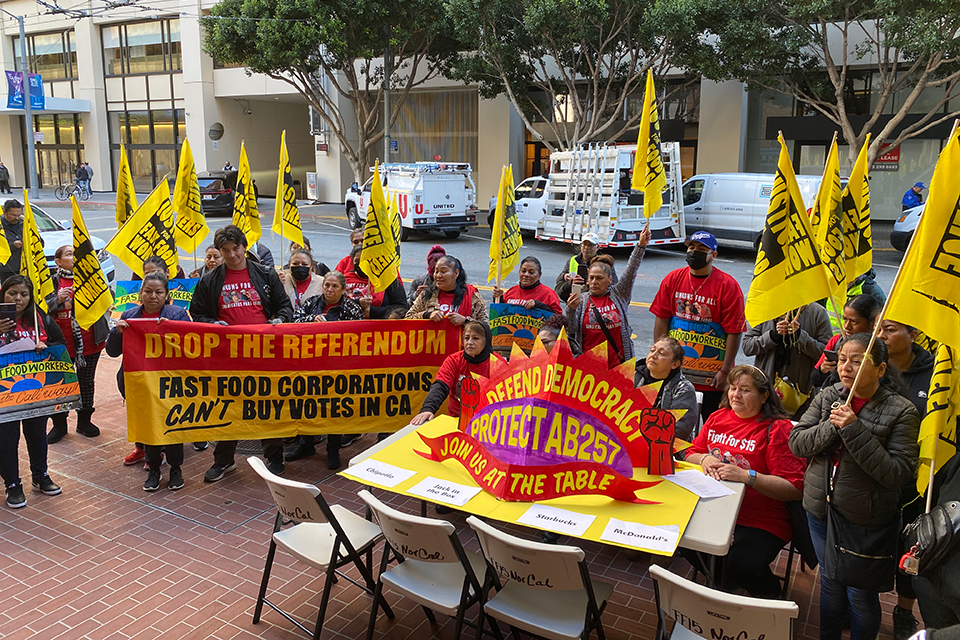 Last Tuesday, November 15, fast food workers across California went on strike and rallied in five cities to demand that major corporations including McDonald's, Chipotle, Jack in the Box, and Starbucks come to the bargaining table to solve major problems these workers face on the job.
On Labor Day last year, Governor Gavin Newsom signed into law Assembly Bill 257, the FAST Recovery Act, which authorized the creation of a fast food industry council. This council would bring together government, industry, and worker representatives to set minimum standards for fast food workers. It would also give fast-food workers an avenue to fight for improved wages, health and safety, workplace security, time off, and protection from discrimination and harassment.
However, instead of coming to the table, fast-food companies have funded a misleading referendum to call back AB 257. This is yet another case of conservatives and big businesses refusing to accept laws and rulings they don't like and attempting to use their money to rewrite the rules.
In Sacramento last Tuesday, workers turned in nearly twice as many signatures as required by AB 257 to the Department of Industrial Relations to start the creation of the Fast Food Council. This is a major step forward for the industry, and SEIU 1021 members will need to step up to help ensure that the referendum doesn't pass and that AB 257 remains enshrined in the law to protect fast food workers.
As SEIU 1021 Vice President of Organizing Brandon Dawkins told a passionate crowd on Tuesday, "The rights of workers are not for sale! As we continue to fight for dignity, respect, and democracy, we demand respect!"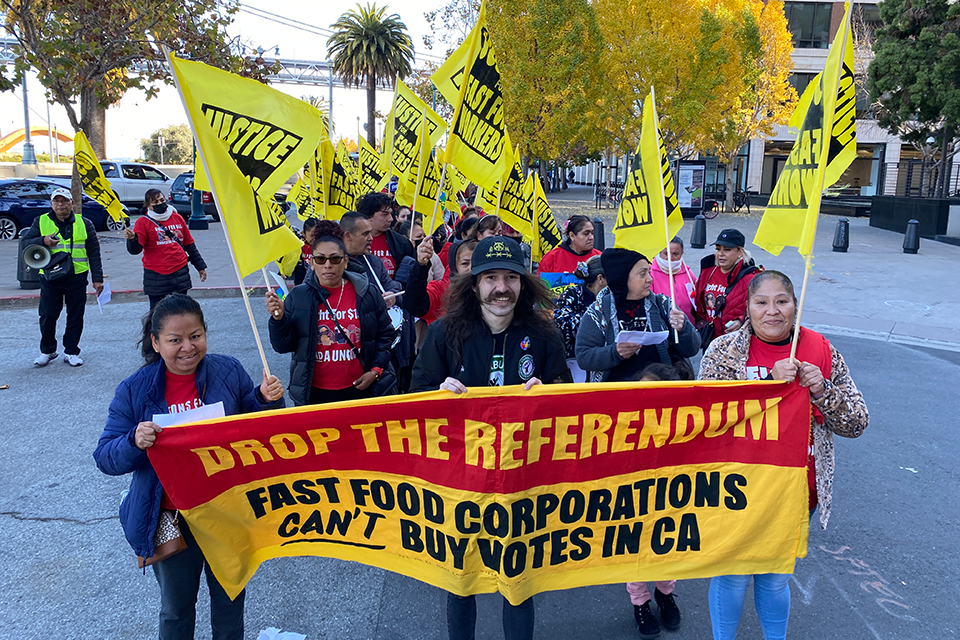 The state's fast food workers are nearly 80 percent people of color, more than 60 percent are Latino/Latina and two-thirds are women.
California's fast-food workers are more than twice as likely to live in poverty as other workers in the state and 52 percent rely on public assistance programs. A recent study conducted by Harvard and the University of California San Francisco found that the state's fast-food workers are paid $3/hr less than comparable service-sector workers and face relatively higher levels of schedule instability. In a recent survey, an astonishing 85% of respondents reported experiencing wage theft while working in fast-food.