Fast-food workers bring the heat to Sacramento, fighting for a FAST Recovery
California is on the verge of transforming how fast-food workers are treated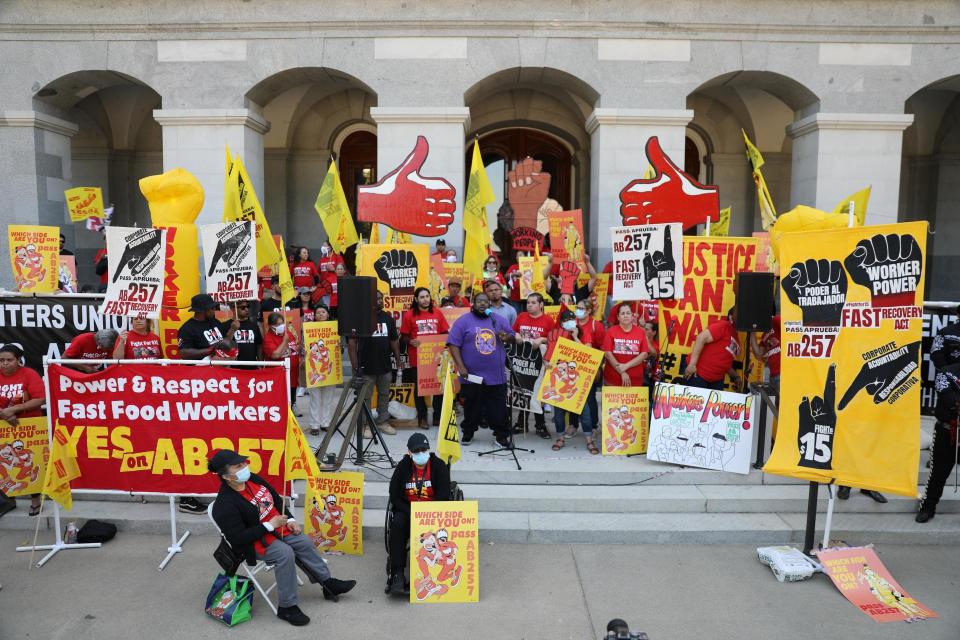 On a scoring hot day that hit nearly one-hundred ten degrees in Sacramento, fast-food workers, SEIU 1021 members, and community supporters and allies converged upon the state capital. That heat that enveloped Northern California on Tuesday, August 16, 2022, is what fast-food workers face in the kitchens of thirty thousand restauranteurs across California.
"It's an honor to stand with you and to stand with fast food workers in the Fight for $15 and a Union," said SEIU 1021's president-elect Theresa Rutherford to a crowd of fast-food workers on the steps of the California state capital building. "In addition to serving SEIU 1021, representing more than sixty thousand workers across Northern California, I also work as a CNA at Laguna Honda Hospital and Rehabilitation Center in San Francisco."
"Throughout the pandemic and today, I worked on the frontlines, but the pandemic revealed how 'essential workers' were robbed of essential protections," Rutherford continued, highlighting the need for workplace protections. "Just like me, fast-food workers remained on the frontlines and had to fight for recognition, basic protections, and the dignity that all essential workers deserve."
The kind of recovery that fast-food workers are fighting for is at the heart of Assembly Bill 257 – the Fast Food Accountability and Standards Recovery Act or FAST Recovery Act. This landmark piece of legislation would protect and empower California's half-million fast-food workers by reating a statewide Fast-Food Sector Council. This council would develop solutions to worker pay, protections, benefits, and training.
AB 257 – the FAST Recovery Act is expected to receive a full floor vote in the California State Senate in the coming weeks. After clearing the State Senate, the bill will need to be re-approved by the California State Assembly before heading to Governor Gavin Newsom's desk.
In the lead-up to the end of the legislative session, fast-food workers have been escalating their demand for lawmakers and Governor Newsom to support the bill.
The FAST Recovery Act would represent a meaningful step toward sectoral bargaining. As of right now, states are barred from passing their own collective bargaining law for private-sector workers. To do so would be what's known as an illegal preemption of the National Labor Relations Act, which governs unions for private employees.
"Over the past two decades as a CNA and member of SEIU Local 1021, I have seen the true power of collective action," Rutherford said, persisting through the heat. "Looking out to the crowd today, fast-food workforce looks a lot like the state's health care workers: the majority of us are people of color, most of us are women, and many of us left our home countries in search of better opportunities for ourselves and our families. I'm here to stand with you and fight alongside you to make sure you win AB 257 – the FAST Recovery Act. My message to you is to keep fighting and keep organizing because together, we have the power to move legislators and rewrite the rules to make the economy and our state a fairer place for all."
AB 257 – the FAST Recovery Act is expected to be voted on as early as this coming Thursday, August 25.