East Bay members hit the streets to win for working families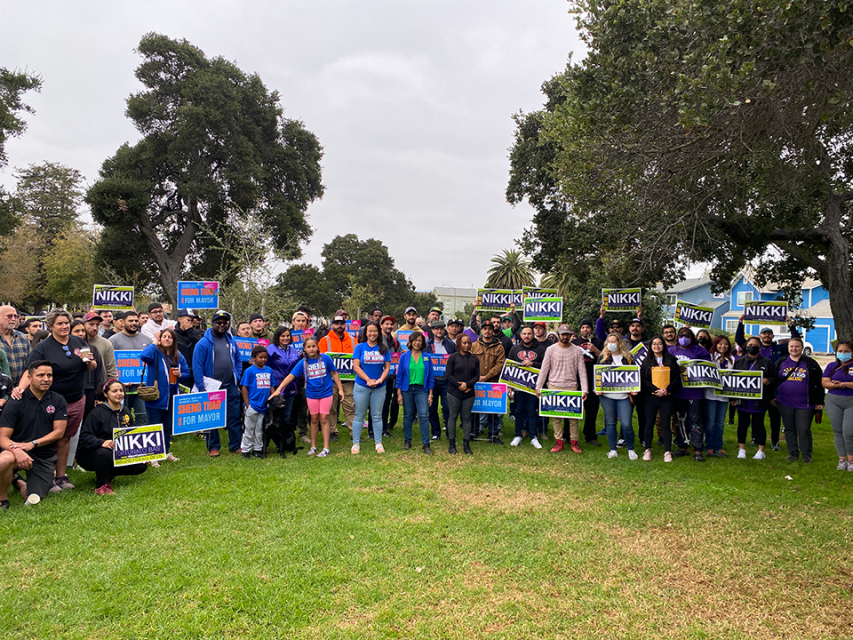 With so many candidates and initiatives on every ballot, sitting down to vote can feel overwhelming. However, our votes are important tools for making our jobs and our communities better. To help make voting simpler, SEIU 1021's endorsements are listed here and our volunteer opportunities are here.
Yeon Park works for Alameda County providing mental health services. She also serves as SEIU 1021's Vice President for the East Bay region. She's excited about this crucial midterm election and the great things it could bring for working families in the East Bay. She said, "This election is important! We need to focus on the candidates and ballot measures and ask ourselves, 'Is this going to support our members, our values, and our community?' As union members, we have to find and support elected officials, legislators, and measures that will support our issues: wages, benefits, including retirement, and our communities. I know some members feel their work and their politics are separate things, but we can get the support we need by voting for the right people and the right measures. Think about how important our schools are. Our kids need a good education in a safe environment. Our seniors need care. Our pensions need to be protected. These are vital issues for our members and all working people, and this is why we fight and why we need to be so conscientious about who we elect!"
She identified some particularly important races for East Bay members: "For Alameda County's Board of Supervisors, Rebecca Kaplan will provide the progressive leadership the County needs. She's an experienced public servant and a passionate advocate for working families."
"In Oakland, we have to have a mayor who supports working people, for our members, and for the whole community. We have seen what happens when we don't, and it hurts us all. That's why Sheng Thao has to be the next mayor of Oakland. With her as mayor, and Nikki Bas, Janani Ramachandran, and Kevin Jenkins on City Council, we can help make Oakland a safe, healthy, prosperous community where our families can thrive. It's vital that Measure T pass as well: this is a progressive business tax that asks the most successful corporations pay their fair share so we can fund core City services that keep our streets clean and safe, provide great parks, keep our libraries open, and so much more."
To get involved with your union's political program, check out our Committee on Political Education.