Don't write them off: The Writers Guild of America enters week three of its industry-wide strike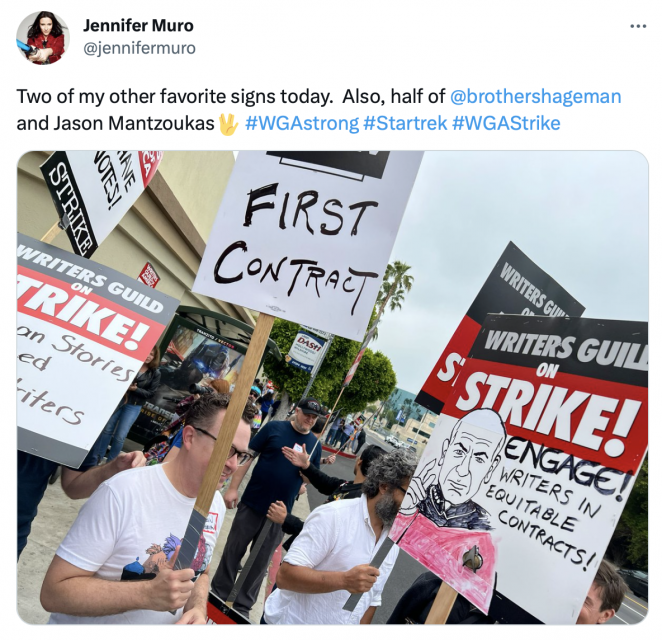 "Live [word missing] and prosper."
"May the [word missing] be with you."
"What we've got here is [word missing] to communicate."
"I think this is the beginning of a beautiful [word missing]."
Imagine those prominent lines of dialogue from cinema not complete. Imagine dialogue and entire scripts broken, not thoroughly fleshed out, with zero character motivation or plot development. Imagine a world where writers who are not paid what they're worth withhold their labor. Imagine no more, with the Writers Guild of America entering its third week of an industry-wide strike.
Representing 11,500 writers, the Writers Guild of America is staging the most extensive interruption to American television and film production since the beginning of the COVID-19 pandemic in early 2020. The strike is also the most prominent labor stoppage for the WGA since the 2007-2008 strike.
In previous strikes organized by the WGA, residuals for hour-long shows and home media releases, expanding creative rights, cost-cutting in the writing department, and expanding union rights to reality television and animation productions were among the top concerns for WGA members.
Unlike its 1988 or 2007–08 strikes, the 2023 work stoppage is also about how streaming services—such as Netflix, Hulu, Paramount+, Disney+, and others—have radically changed the media landscape. Another issue of concern to writers unique to the 2023 strike is limiting the use of artificial intelligence. Writers want artificial intelligence services such as ChatGPT to be used only to help with research or facilitate script ideas, not to replace them.
"Look, we keep hearing—for years now—we are in the golden age of television," said Ramsés Téon-Nichols, the vice president of politics for SEIU Local 1021. "You have seen it with Game of Thrones, Breaking Bad, Succession, and so many more. As a Trekkie, I cannot help but be excited about all the new series coming out for the Star Trek media franchise. Without writers, we would not have the starship Enterprise, Mister Spock, Captain Jean-Luc Picard, Klingons, and a universe where diversity, inclusion, and peoples' basic needs are prioritized. The Writers Guild of America strike shows how vital writers are to our culture and society. They create the stories that inspire us. It is the writers who build worlds, open our imaginations, and dare us to aspire to be something better."
The Writers Guild of America—a joint effort of two different labor unions, including the Writers Guild of America, East, based in New York City, and the Writers Guild of America West, headquartered in Los Angeles—is exerting its worker power and unity among its membership.
"The strike shows us how withholding one's labor can bring an industry to a grinding halt," continued Téon-Nichols. "The Writers Guild of America is asking for basic necessities that all workers should have: adequate funding for resources, job security, and workplace protections. They also bring up a significant issue with the increased use of studios using artificial intelligence in the writing process. New emerging technologies should help foster the creative process of writers, not harm their livelihoods, and have their art suffer as a result."
Another important proposal that the WGA is advocating for would ensure that each writing team member of any given film or series production receives their pension and healthcare funds. The Alliance of Motion Picture and Television Producers—representing over 350 American television and film production companies in collective bargaining negotiations with labor unions—rejected that proposal and did not offer a counterproposal.
"The WGA estimated that its proposals would yield writers about $429 million annually," said Téon-Nichols. "That cost proposal is a drop in the bucket for what studios like Warner Bros. Discovery, Paramount Global, Sony Pictures, Universal Pictures, and others make each year in profits. The Alliance of Motion Picture and Television Producers can more than pay for what the writers demand. It is just and fair."
In a show of solidarity, the International Alliance of Theatrical Stage Employees (IATSE) announced it would not cross the writers' picket line, and the Screen Actors Guild – American Federation of Television and Radio Artists (SAG-AFTRA) would join WGA-organized picketing events and protests. Members of SAG-AFTRA are also currently voting in a TV/theatrical strike authorization referendum.
Internationally, the Writers' Guild of Great Britain, the Australian Writers' Guild, the Writers Guild of Canada, the Screenwriters Guild of Israel, the Writers Guild of Ireland, and the Writers Guild of Sweden are refraining from working on American projects during the duration of the WGA strike.
For comparison, the 1988 strike—the longest in WGA history—lasted 153 days, surpassing the 1960 strike by one week and the 2007–08 strike by seven weeks.