Dixon Unified Schools classified workers vote to authorize strike
The district's lowest-paid employees, including paraprofessionals, nutrition service workers, clerical staff, and custodians, are demanding the district take urgent action to address high turnover and short staffing caused by inadequate wages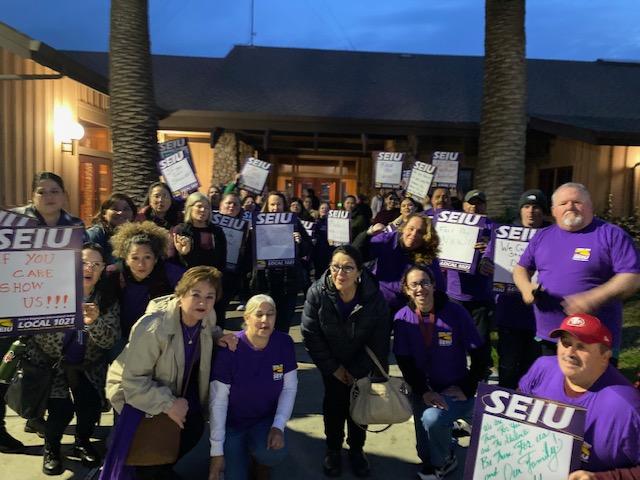 May 3, the Dixon Unified School District (DUSD) chapter announced the results of votes by members to authorize a strike — a first for this chapter. A large majority of members – who work as paraprofessionals supporting the district's special-needs students, nutrition service workers who make sure Dixon students get hot meals every day, staff who keep Dixon schools running smoothly, and custodians, campus monitors, grounds and maintenance staff who keep the schools clean and safe, and various other classified staff – voted yes.
This gives the union bargaining team the green light to call a strike if DUSD continues to fail to meet demands related to insufficient staffing due to low wages.
"I love what I do, but I can't make a living doing the job I love," said paraprofessional Andrew Rathjen, who serves as the SEIU Local 1021 DUSD chapter president. "The people I work alongside are some of the most caring and hardworking people I know, but many of us, including myself, have to balance two or three jobs with our families just to make ends meet. We can't give the students the time and energy they deserve if we are overworked and underpaid."
The low wages have led to high turnover, making Dixon USD a "pass-through" district where workers quickly move on to better-paying districts in nearby cities and counties. That turnover leaves holes in staffing. And since there are no substitutes for most classified employees, and a shortage of subs for those staff eligible for them like paraprofessionals, many workers have to do "double duty" just to try to keep schools running smoothly and students taken care of – leading to more burnout and attrition.
The district's current proposals on the table are wholly insufficient to address the staff shortages and high turnover rates among classified workers, and so far, they have been unwilling to budge – despite giving administrators already making six-figure salaries hefty raises just months ago. Their refusal to negotiate in good faith with their committed, hardworking classified employees, most of whom are the lowest paid in the district, has resulted in the union filing multiple unfair labor practice (ULP) charges with the California Public Employee Relations Board (PERB) and in last week's strike authorization vote.
"Our students pay the price when staff is stretched too thin. We want to give one hundred percent to our students, but we can't do that if we are struggling," said Julie Galindo, a DUSD paraprofessional. "We deserve better. Dixon students and families deserve better."
DUSD members will be picketing outside the school board meeting this Thursday, May 18, pressing the board to take action to address staffing and avoid a strike.