Dixon Unified School District classified staff pack school board meeting to demand living wage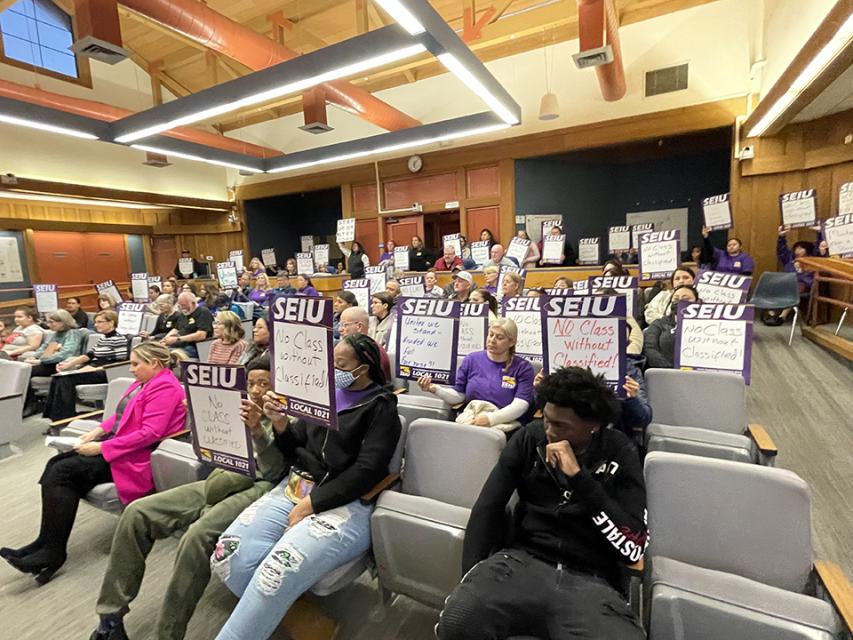 The Dixon Unified School District school board meeting was flooded with a sea of purple last Thursday, March 2, as over 65 classified employees packed the chambers to share their stories during public comment and show support for their bargaining team, who have been negotiating a successor contract for 11 months.
SEIU 1021 members at Dixon USD work as paraprofessionals, custodians, nutrition service workers, and clerical staff, filling some of the roles most crucial to keeping schools clean, safe, and running smoothly, and to making sure the district's students get to and from school safely and are fed. But low wages are fueling a staffing crisis that is negatively impacting students.
"We all know that people — in our case, Dixon USD employees – are having to choose between gas and food. Management received between 8-14%, and you've offered 3% to the people working 3, 4, sometimes 5 jobs to get by," said SEIU 1021 Dixon USD Chapter President Andrew Rathjen during public comment. "You've seen us come up and speak with humility and pride of the work we've performed for the students of this town, and all of you have children or family currently in our district. Do you care about this? All our staff working at Dixon USD deserve livable wages. You're already addressing the managers; we need you to address the rest.
"I met a young woman from Dixon. All of her children are currently enrolled in schools in the district. She'd love to work in the district herself, but unfortunately she has to drive to Sacramento each day because the same job pays $10 an hour more. When I started working in this district two years ago, I heard many times this district was a pass-through district. But I'm still here, as are so many dedicated Dixon USD classified staff. As the cost of living continues to rise and the cost of energy and food continue to rise, what will be left over? Will you be able to sit back and be proud of the work you did to support those barely getting by?
"Just today, we had CPR training in our district. I'm happy people are getting trained, but we don't have enough people working for all our students to be covered by a sub or trained personnel. We work hard, many times beyond our normal hours, to make sure kids are taken care of and our tasks are completed.
"Please do the right thing. Living wages are necessary for all of us. When a classified employee is unpaid, who does that hurt? The entire community of Dixon. There is no class without classified."