Coalition announces creation of 'Sacramento Forward' to address housing & homelessness crisis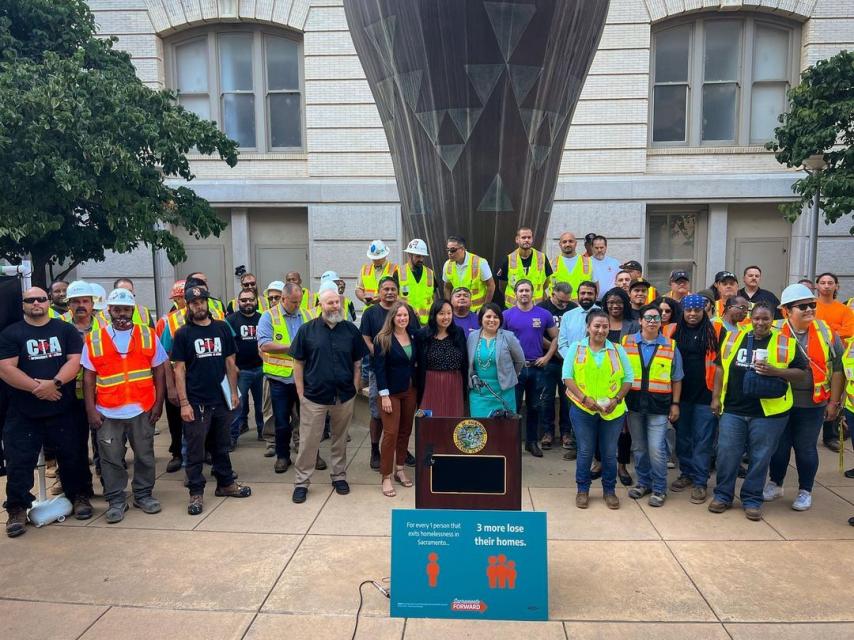 Tuesday, August 8, 2023, a coalition of labor (including SEIU 1021), community groups, and elected leaders announced the creation of Sacramento Forward at a press conference outside Sacramento City Hall.
Sacramento Forward is a comprehensive policy proposal to address Sacramento's housing and homelessness crisis. Sacramento Forward has five main prongs:
Establish an inclusionary housing requirement that a percentage of all new units be affordable for low- and very-low-income households;
Enact just cause eviction protections at 30-days of occupancy (as well as other renter protections to protect people from losing their housing such as stronger rent control);
Adopt the Sacramento Opportunity to Purchase Act, which would require any tenant building listed for sale to be sold to the tenant or eligible community group if they can meet the initial listing price;
Require prevailing wage and healthcare for workers on projects that receive any public support, making sure workers can afford to live in the housing they're building; and
Generate funding for affordable housing through a 2024 ballot measure.
Sacramento Forward is the brainchild of a coalition comprised of SEIU Local 1021, the NorCal Carpenters Union, the Alliance of Californians for Community Empowerment, the Sacramento Community Land Trust, Mayor Pro Tem Mai Vang, Councilmember Caity Maple, and Councilmember Katie Valenzuela.
Councilmember Katie Valenzuela kicked off the press conference, saying, "This is the result of months of stakeholder conversations and an even longer-term awareness that a solution for our housing and homelessness crisis is needed…We must address the root cause of this crisis: a lack of affordable housing and low-wage jobs."
Councilmember Caity Maple underlined the severity of Sacramento's housing and homelessness crisis: "For every average increase of $100 in rent, homelessness in our region goes up 9%. Sacramento must build more affordable housing. This legislative package will require that a percentage of all new units build be affordable."
SEIU 1021 Sacramento COPE Chair Andy La Torre reflected, "Sacramento can be a leader in affordable housing, but only if we all come together to fight for it. Make no mistake, corporate developers will do everything in their power to stop us from passing Sacramento Forward. And that's precisely why Sacramento COPE not only has endorsed Sacramento Forward, but will continue to come together to build our power to pass it."