Citywide TA informational meetings and voting details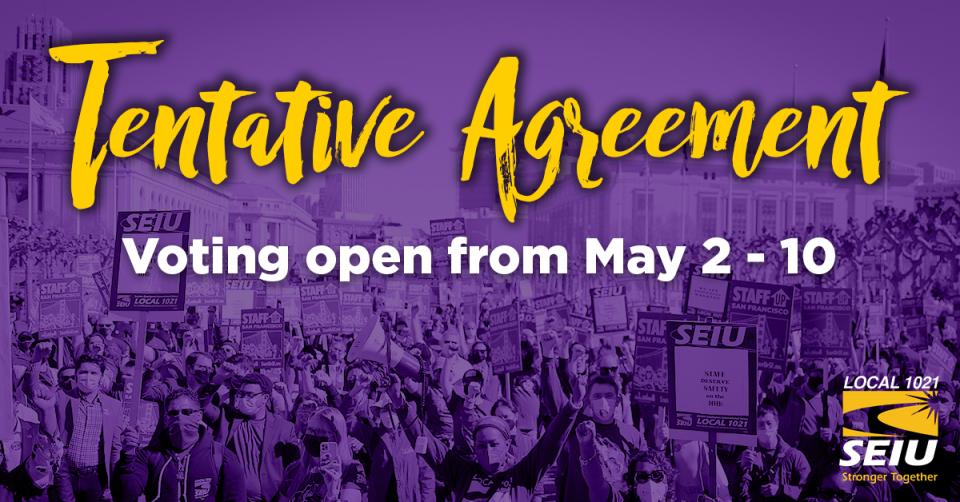 We are excited to announce that our SEIU 1021 San Francisco Citywide bargaining team has reached a tentative agreement (TA) with the City! Our TA includes significant progress on the priorities identified by members and will help recruit and retain staff to make our public services strong.

The ratification vote will be held electronically using ElectionBuddy from May 2 through May 10:
May 2 at 9 am: voting opens
May 10 at 4 pm: voting closes
Evening of May 10: results announced
You should have received your ballot via text or email on Monday, May 2. If you haven't received it yet, it's possible we may not have your current contact information on file. If you have questions or would like to update your contact information and have a ballot resent, please call the Member Resource Center Monday through Friday from 8 a.m. to 6 p.m. at 1-877-687-1021.

To download a PDF containing a summary of the tentative agreement, as well as the specific contract language that was agreed to by our bargaining team and management, please click here.
About ElectionBuddy
ElectionBuddy is a safe, secure, and easy-to-use tool for online voting that has been tested by the Department of Labor and used in multiple elections across SEIU 1021 already. Click here to watch a tutorial explaining how it works.

ElectionBuddy uses our list of eligible voters to issue ballots by email and text message so that members can vote from their computer or phone. It also uses encryption to keep all information completely confidential.