In Alameda County, Management Says "Heroes Work Here" but They Aren't Acting Like It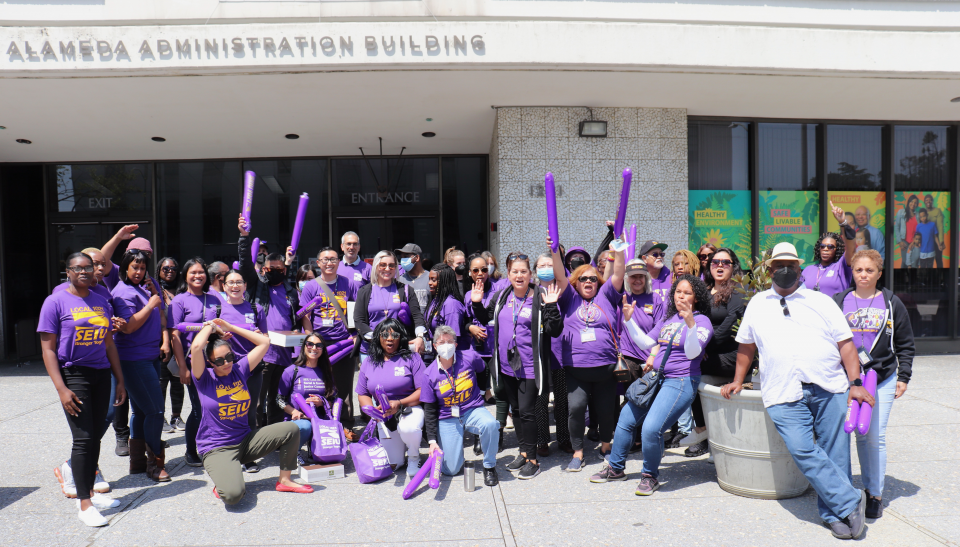 On Tuesday, April 26, hundreds of SEIU 1021 members from across Alameda County rallied outside a closed session of the Board of Supervisors to call for the sacrifices of members to be honored. The pandemic has led to an increased need for the vital services that frontline workers provide. Whether we're called "public servants," "disaster workers," or "heroes," it's clear that we deserve recognition and that the County must invest in and reward its dedicated workforce.
SEIU 1021 represents some 4,200 workers employed by Alameda County, in three separate chapters: the Social Services Agency, Behavioral Healthcare Services, and the General Chapter. These workers serve as the safety net for Alameda County residents in need of social services, from welfare and food stamps to general assistance, healthcare, and more. Throughout the pandemic, the needs for these services have grown and grown.
The American Rescue Plan Act (ARPA) funds available to Alameda County were designed explicitly to "help turn the tide on the pandemic, address its economic fallout, and lay the foundation for a strong and equitable recovery", including "substantial flexibility for each government to meet local needs", including "essential workers" like these.
We have seen other counties honor the work, sacrifice, and service of their essential workers. Santa Clara County is issuing $76 million of hero pay bonuses to its workers to recognize what Supervisor Susan Ellenberg called "the tireless and extraordinary efforts of our county workforce." San Diego County is issuing $36 million to its own workers. Sonoma County, Kern County, San Joaquin County and Amador County: all have designated ARPA funds for the frontline workers who have served throughout the pandemic. Alameda County has an important opportunity here to do the right thing by honoring those who work so hard to provide for the public good and the public health.
Thema Page is a clinical review specialist with Behavioral Health, and has been with the county since 2007. She serves as the Behavioral Healthcare Services President. She said, "It's a shame that we have not received hero pay yet, when all of our neighboring counties and the state have somehow found a way. It's disappointing that this county, which was one of the slowest to send our members home, will be just about last in recognizing the work our members do by rewarding us with hero pay."