After nine months of bargaining and a historic strike, workers at Tenderloin Housing Clinic have ratified a new contract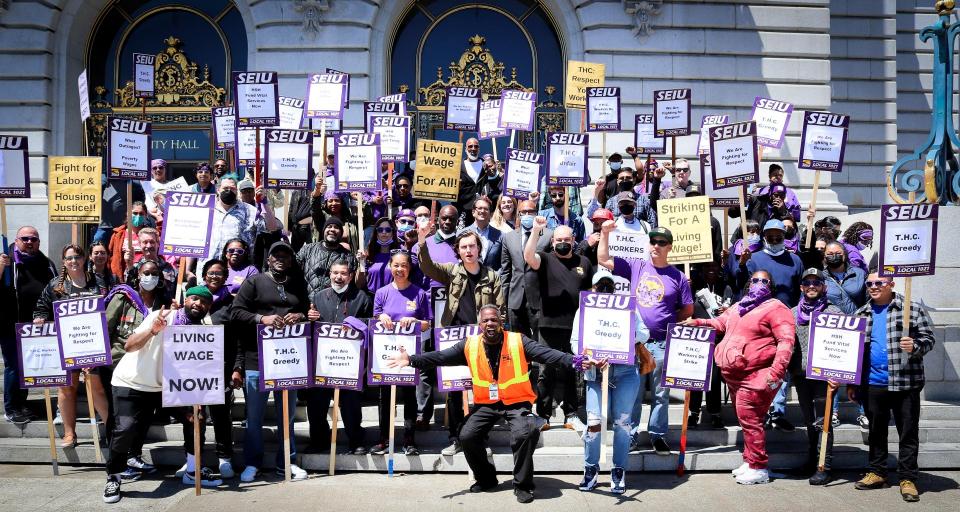 On Friday, September 2, members of SEIU Local 1021 working at Tenderloin Housing Clinic (THC) voted overwhelmingly to ratify a new contract with management. This ratification comes on the heels of over nine months at the bargaining table, as well as what is believed to be a historic, first-ever strike at a city-funded supportive housing nonprofit.
The approximately 300 members of THC staff represented by SEIU 1021 do critical work to keep San Francisco's homelessness and supportive housing system functioning. They work as desk clerks, janitors, case workers, maintenance staff, and more at 24 of the city's single-room occupancy hotels (SROs).
Members will see an immediate pay increase of 7-35% depending on classification, with an average raise of 22% as a result of this agreement. They also secured Juneteenth as a holiday as well as mental health days to allow them time to rest and recover when necessary. This is a key victory for workers, a number of whom report witnessing or being the target of verbal harassment and abuse and, in some instances, physical violence or death.
"This agreement was only possible because workers at THC stayed united. We fought back and refused to cave into management's proposed concessions. We stood up to the City, demanding better for our workforce, clients, and community. This agreement is proof of what we can win when we stand together as a union," said Evan Oravec, a community organizer and the union's THC chapter president.
San Francisco's Department of Homelessness and Supportive Housing (HSH) determines funding amounts for nonprofits contracted with the City. After a tremendous outpouring of support from community members and elected officials during the strike, HSH announced that they would increase the funding allocated to cover the wages of supportive housing workers to a livable amount. This allowed workers and THC management to finalize negotiations.
Workers came to the bargaining table with proposals to address employee mental health, burnout, and turnover—all of which impact resident services. Knowing that THC receives the majority of its funding from the City and County of San Francisco, workers also called on elected officials and city leaders to allocate enough money to address wage compaction and provide meaningful wage increases for the entire workforce.
THC came with a number of proposals aimed at undermining their employees' union rather than addressing workplace issues. After a series of informational pickets and a delegation to management, those proposals were taken off the table. A lack of clear response and information on funding from both management and the city's Department of Homelessness and Supportive Housing ultimately led to the 24-hour strike on July 27, 2022.
You can read about the strike and the struggle by THC workers to win a fair contract in the San Francisco Chronicle.