Celebrate Labor Day by voting NO on the anti-union recall of Governor Newsom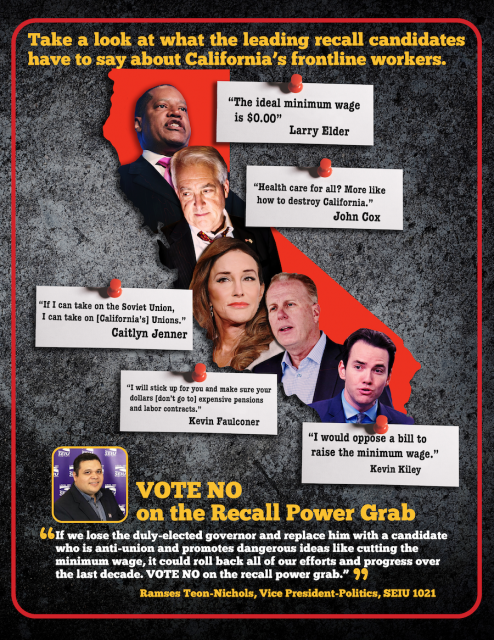 On Labor Day, we commemorate the history of the labor movement and celebrate the victories working folks won had in our fight for fair wages and benefits, dignity and respect at work, and a better life for all of our families. The challenges of COVID-19 have shown just how essential union members are—from the very beginning, we've staffed the frontlines to keep our neighbors safe and our communities running.

This year, we have to do more than celebrate our history—we also have to look ahead to what the future holds if the anti-union gubernatorial recall effort is successful. Billionaires are mounting a dangerous attack on all of the progress that working people have made in California. They know that voter turnout in special elections is sometimes low and are using their wealth to bankroll a campaign that would undo the decades of progress we've made to protect and lift up the working people of our state.

With just a fraction of the vote, our state could have a Governor who wants to gut our pensions, dismantle our healthcare, drive down our wages, privatize our services for profit, and worse. We cannot allow this to happen.

Time is running out to talk to our friends, neighbors, and loved ones about the importance of voting NO on this dangerous anti-union recall. We have just over a week to reach as many voters as possible and urge them to oppose the recall and turn in their ballot on or before September 14. Sign up to volunteer now and tell billionaires and wealthy special interests that we won't allow them to buy this election and enact their anti-worker agenda.