Missed our #StopAsianHate Zoom Town Hall? Watch the recording and access the toolkit.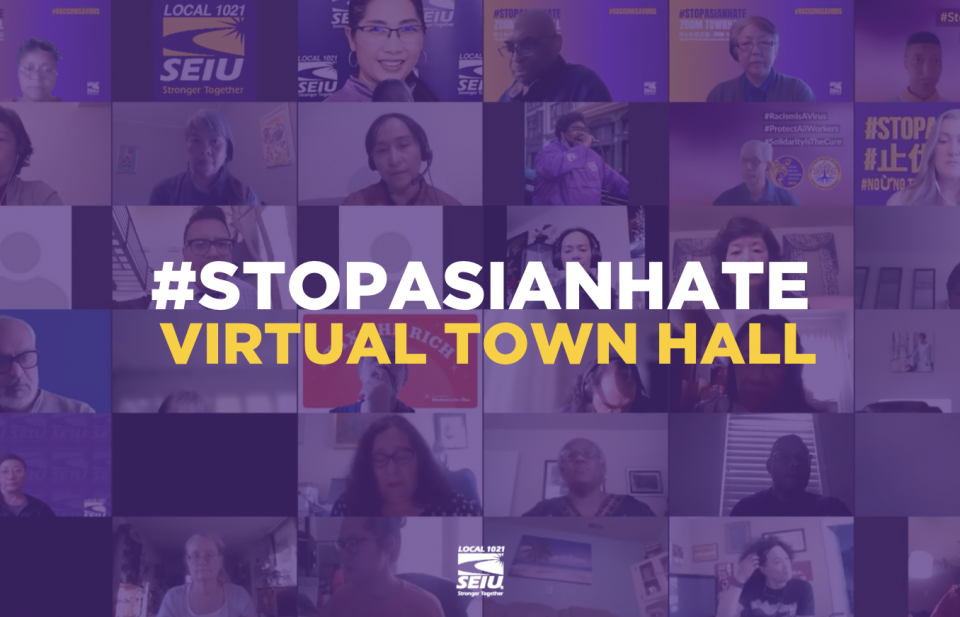 Missed our #StopAsianHate town hall? Click here to watch a recording!
Many thanks to the panelists, organizers, moderators, and leaders who took their inspiration to create this space and lit the spark to help make this event happen behind the scenes.
AAPI communities have recently been the victims of vicious attacks here in the Bay Area and all over the country. SEIU is a committed anti-racist organization, and we know firsthand that the only way to put an end to hateful violence is for working people to stand together and support one another.
The unity, support, and solidarity displayed at the town hall was truly heartwarming. Holding space for everyone — no matter their race, gender, or identity — is essential when building the unbreakable bonds that will unite our communities for generations to come. Now more than ever, we must come together, stand up for each other and protect each other against race-based violence, hate, and injustice.
We're including links to resources below, and will continue to share details of future actions, meetings, and opportunities for everyone to get involved in this work.
ALLYSHIP AND SUPPORTER RESOURCES
Please take a moment to read through the Stop Asian Hate Toolkit for AAPI Partners and SEIU Members as a guide to help you get started.