Workers Speak Out to Stop the Abuse of Temporary, At-Will Workers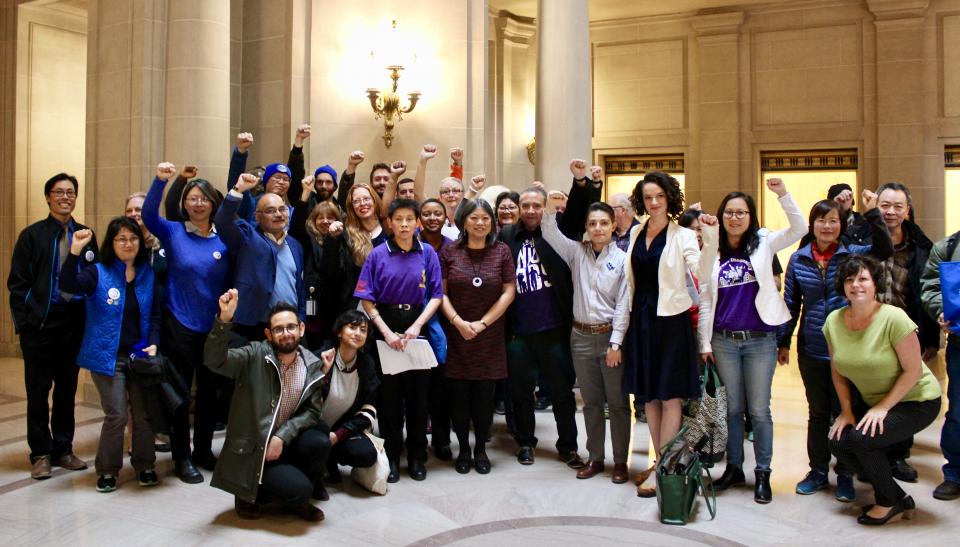 On April 4th at SF City Hall, over 75 members of SEIU 1021 and IFPTE Local 21 lined up for public comment to ask the SF Board of Supervisors Government Audit & Oversight Committee to stop the abuse of temporary and exempt workers city workers. Temporary and exempt workers lack job security, and most workers have fewer benefits and protections.

"These are City Workers who keep our streets safe, help with patients in hospitals and run popular recreational activities in our Parks. They are frontline workers who provide direct services to the Public," said Theresa Rutherford, Laguna Honda Patient Care Assistant, and SEIU 1021 Vice President of San Francisco.

Since 2012, the city has nearly tripled its number of temporary, or exempt, workers. For years, city administrators have been filling long-term staffing shortages, bypassing civil-service protections afforded to permanent employees.

"At this point I feel my position leaves me in a place of uncertainty. And I feel utterly disposable. Don't we deserve job security with a passage to a permanent job with protections," said Connie Lee Yang, 4-year temporary RN from Zuckerberg San Francisco General Hospital.

Workers are especially concerned about how the limited rights afforded to exempt employees may be dissuading workers from speaking out against harassment, racial discrimination, or other misconduct in city departments.

"Temporary and exempt workers are vulnerable. If these practices were happening in the private sector, we would condemn it and say that it was unacceptable. We need to find solutions to weed out systemic racism and sexism in our City, and we need to fix the exempt and temporary issue that contributes to those systemic problems." Sandra Lee Fewer, presiding Supervisor of the hearing.