Workers Block Landfill as San Joaquin Supervisors Refuse to Address Problems Plaguing County Services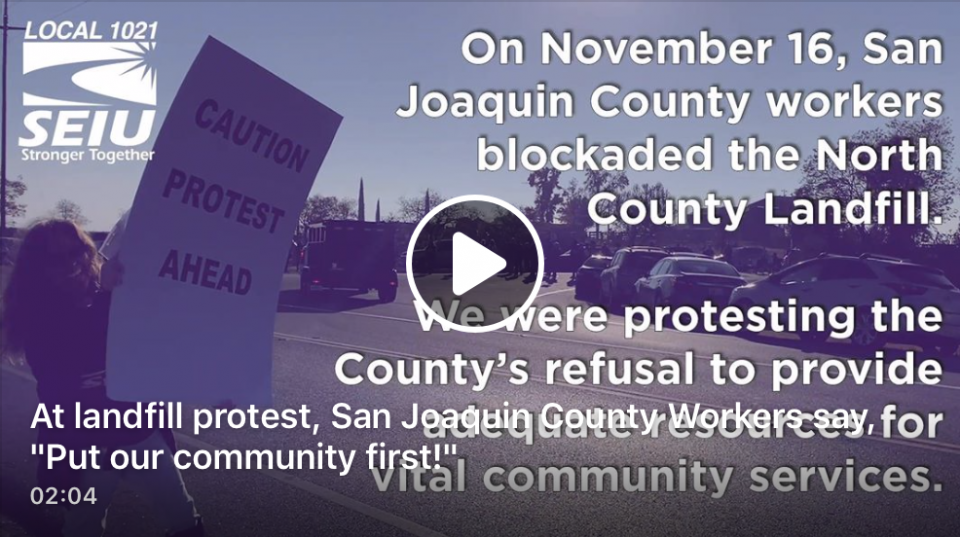 Individuals driving out to North County Landfill early Saturday morning were shocked to see 100 SEIU 1021 members assembled at the entrance, holding picket signs and blocking access to the dumpsite. While Saturday's protest focused on the landfill, the problem of understaffing and inadequate resources touches every corner of San Joaquin County.

"All across this County, workers are being asked to do more with less. You wouldn't want a nurse who is overworked to care for you, you wouldn't want a health inspector who is stretched too thin examining the food you're going to eat, and you don't want fatigued and exhausted landfill workers risking their safety or the operation of our vital landfills" said Markus Karman, A Solid Waste Recovery Supervisor who has been with the County for seven years. "We don't want to take this extreme step of shutting down the landfill, but the Board needs to know that they can't keep burying these issues. It's time to adequately invest in staffing and services across this County."

Saturday's action at the landfill highlighted an ongoing pattern of this Board's refusal to invest in maintaining the level of services the County needs. Since 2011, the County's General Fund balance has more than doubled from $127.66 million to $300 million, including close to $120 million in unassigned dollars while fees at the Landfill have continuously increased. Despite the increase in fees, landfill workers say that understaffing and high turnover are creating health, safety, and environmental concerns.

"We are truly sorry for any inconvenience caused by our actions, but we can't in good conscience allow the Board's mismanagement and disastrous behavior continue," said Cheryl Hicks, a Child Support Officer who has worked for the County for six years. "High vacancy rates, turnover, and a lack of investment in services leave workers struggling to serve our residents and safeguard the health and wellbeing of our families. Miguel Villapudua, Tom Patti, and the entire Board of Supervisors have a responsibility to this community, and it's time they focused on doing the job they hold now instead of campaigning for the job they want next."

SEIU 1021 members held their blockade for three and half hours before being instructed by County Sheriffs to disband. Workers called on the Board of Supervisors to take their concerns seriously by agreeing to a fair contract that adequately staffs County services, will help attract and retain talented workers, and make San Joaquin County a great place to live, work, and raise a family.