What Will It Take to Ease the Affordable Housing Crisis in Mendocino County?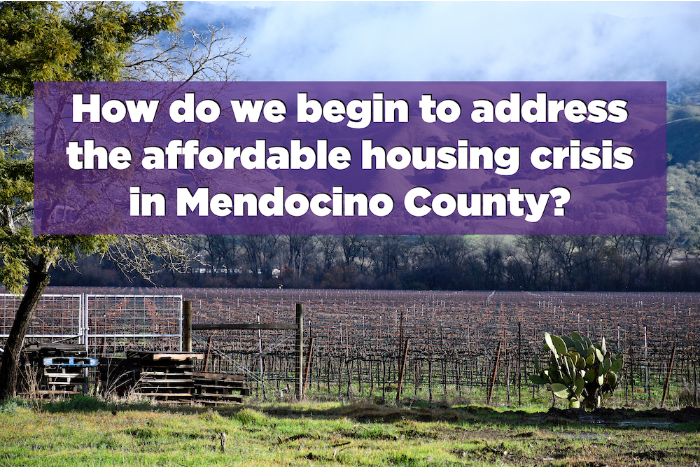 The SEIU 1021 Mendocino County Chapter's Housing Options Committee formed this spring to assess the depth and breadth of the county's housing crisis and work on solutions. In response to a recent community survey, a Mendocino County employee in Fort Bragg shared an anecdote that sums up the problem our members have set out to solve: "I can think of half a dozen employees that the County has offered jobs to here on the coast, but they had to turn down the offer, because they couldn't find anywhere to live."
SEIU 1021 Executive Board Member and Mendocino County Museum Curator Karen Mattson shared that quote and others during the September 28 Board of Supervisors meeting to highlight some of the many problems that the county's affordable and middle-income housing crunch is causing or exacerbating. "In our inquiries, we heard many stories of new employees living for months in motels or campgrounds while they searched unsuccessfully for a home to rent or buy," she added.
"People are definitely relocating to other places," said Mendocino County Chapter President and Senior Public Health Analyst Julie Beardsley, who has been active in the Housing Options Committee since its inception. "I know people who have taken other jobs in other counties because they could afford places to live there."
The Bay Area is not the only part of Northern California suffering from a severe housing shortage. The causes of Mendocino County's crisis are complex and multifaceted—an effect of already limited housing stock being converted into short-term vacation rentals or destroyed by wildfires; a shortage of construction workers and a burdensome, expensive permitting process to build new housing; and water and sewer hookup limitations.
The result is that even those with stable, full-time employment who, under normal circumstances, would not be at high risk of housing insecurity cannot find or afford a place to live.
Even for those fortunate enough to have both full-time employment and housing, affordability remains a big problem. "Something we found troubling was the high percentage of income that employees reported paying toward housing costs: 23 percent are paying between 40 and 50 percent of their income, and 32 percent report paying 50 percent or more," Karen Mattson said in her public comment at the meeting. "That is not sustainable or healthy for our local economy. A shocking finding in the survey was the high number of respondents, many with stable full-time employment, who find themselves living on the edge and unable to find stable living arrangements. Of the survey respondents, 22 percent have experienced homelessness, with 3 percent currently homeless while working."
Because the causes are a combination of factors, some ubiquitous in California and others more specific to Mendocino County, there is no one easy solution. That's why the 1021 Mendocino County Chapter's Housing Options Committee is committed to working with the Board of Supervisors and county government on evaluating and addressing the problem, which a Mendocino County Civil Grand Jury report called a "critical lack of affordable and available housing."
In her public comment at the September 28 meeting, Karen Mattson enumerated four recommendations the committee believes would have the most impact on housing development in the county:
"We call on the County to dedicate staff time and resources to the Mendocino County Building Trust Fund to help support housing development.
We call on the County to dedicate staff time and resources to seek out housing development grants and funds from State and Federal sources.
We call on the Board of Supervisors to pass a moratorium on the conversion of single-family houses to new short-term vacation rentals in the unincorporated areas of Mendocino County.
We call on the County to dedicate staff time and resources to continue to streamline and simplify zoning and permitting requirements for housing development and preservation."
As long as housing continues to harm county residents and hamper efforts to recruit and retain the workers the county needs, SEIU 1021 will continue to fight for real solutions. If you're a 1021 member in Mendocino County and would like to get involved, contact Field Rep Patrick Hickey at Patrick.hickey@seiu1021.org.
Read more from the Mendocino Voice.