"We're going to fight like hell to keep these doors open"
Community, workers, and patients will rally to save San Francisco's Laguna Honda Hospital, a national leader in COVID response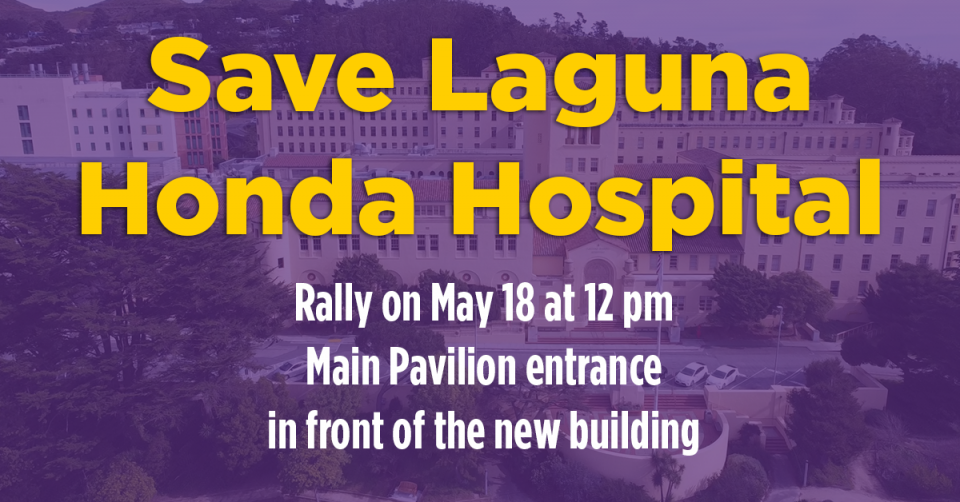 Advisory for May 18, 2022
Contact: Andrew Baker
(San Francisco, Calif.) On Wednesday, May 18 frontline healthcare workers, patients, families, and community allies will stage a "Save Laguna Honda" rally outside the hospital. We will be joined by Mayor London Breed and members of the San Francisco Board of Supervisors, as well as faith and community leaders.
The rally comes in the wake of news that the Centers for Medicare and Medicaid have terminated the hospital's participation in the program, although aggressive efforts to recertify the facility are currently underway. As a result, the hospital is required to implement a Closure and Patient Transfer and Relocation Plan while frontline staff, DPH leadership, and our elected officials all continue to work in partnership towards recertification. The hospital remains open, and our workers continue to provide excellent patient care to our city's most vulnerable.
"Laguna Honda Hospital has served this community for over 150 years and we were a national leader in COVID safety. We have over 700 patients, many of whom have lived here for decades—where are they supposed to go?" asked Theresa Rutherford, SEIU 1021 Vice President of San Francisco and a Certified Nursing Assistant at Laguna Honda Hospital. "As a union, we're going to fight like hell to keep these doors open. We were healthcare heroes yesterday, but now we are fighting to get Laguna Honda recertified. We're going to do everything we can to protect our patients and make sure we can continue serving this city."

"It was a gut punch," said Felipe Martinez, a Laguna Honda patient upon learning of the possible transfer and closure. "Laguna Honda helps so many different people. Moving residents and closing the doors is like shutting the doors on some of the city's people most in need. It is very hard to find the quality of care that we have here at Laguna Honda."
WHAT: Rally to Save Laguna Honda Hospital
WHO: Healthcare workers, patients, community allies, elected officials, DPH leaders
WHEN: Wednesday, May 18, 2022 at 12 pm
WHERE: Outside the Administration Building by the Florence Nightingale statue
Laguna Honda Hospital, 375 Laguna Honda Blvd, San Francisco, CA 94116
BACKGROUND
For more than 150 years, Laguna Honda Hospital has been a pillar of San Francisco's safety-net healthcare system, caring for those most in need and providing services during pivotal moments in San Francisco's history, including the 1906 earthquake, the HIV/AIDS epidemic, and the current COVID-19 pandemic.
More than 700 patients live at Laguna Hospital — the only long-term skilled nursing facility of its kind in the U.S. Patients will be forced to relocate far away from their communities, families, and loved ones.
Laguna Honda Hospital is San Francisco's primary long-term care facility. It provides San Franciscans with a complete continuum of care, including skilled nursing, rehabilitation, AIDS care, dementia services, hospice and acute care, as well as an adult day health care center and a senior nutrition program.
###