'We Will Lose Everything': Hayward Workers Speak, Protest Inequality, Wage Cuts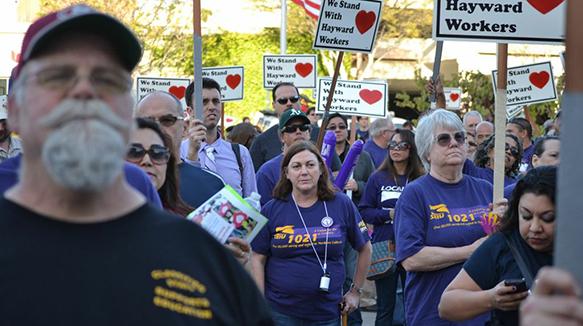 Hayward Families and Community Face Hardship and Foreclosure as Politicians Unfairly Cut Pay 25%. Local Businesses Lose $13.9 Million
Hundreds of Hayward workers, their neighbors and community allies, marched on Hayward City Hall on Friday, March 14th, against the sitting politicians who have imposed unfair wage cuts that worsen economic inequality.
Since 2010, Hayward workers have seen their pay cut by up to 27.3%, with the latest cuts imposed unilaterally by the Hayward City Council over the recommendations of an independent management consultant. These cuts are devastating to working families already struggling with high housing and living costs, and will continue to hurt local businesses, estimated to have lost $13.9 million in revenue so far.
Representatives from the offices of Alameda County Supervisor Richard Valle, Ellen Corbett, Bill Quirk and other elected officials were on hand to speak and offer support of Hayward's working families.
The crowd heard stories like that of Erika Johnson, a Records Clerk in Hayward Police Department, employed with the city for 6 years. Johnson is a single mom with three children — one requiring special medical care — and commutes from Tracy. On paper, she makes $29 an hour but with the concessionary cuts, she is trying to feed a family of four on $15 an hour.
"They are breaking our backs and our will. I don't have the ability to pay for food for my kids. They say I make too much for food stamps so I have to go to a food bank. When I started, I was paid $1800 every two weeks. I was able to afford my mortgage payment. Then they cut 12% and I made $1500. I was still able to pay my mortgage. Now I make $1,300 every two weeks. An entire paycheck goes to my mortgage that won't even be paid in full, then we have nothing to live on for two weeks.
"There is no way to come out of this. Bills aren't going away, so we will sink slowly like quicksand until we lose everything."
Friday, March 14th was the the first payday where Hayward workers will see their smaller paychecks. Most saw cuts of 5 to 10%, which follows a 17% average loss in wages before 2012.
Hayward's local small businesses will suffer as a result of these imposed inequities. An estimated $13.9 million in revenue has been lost to local businesses since 2010, and that number will rise with the latest cutbacks. These widespread impacts in difficult economic times are one reason that more than 2,000 Hayward residents have signed to pledge, "We Stand with Hayward Workers." (www.WeStandWithHayward.org)
"Where's the justice?" asked SEIU Local 1021 Hayward Chapter President Gil Hesia. "Working families are losing up to one-quarter of every dollar of pay. This is how economic inequality spreads, especially as housing and other prices skyrocket. We work hard, we pay our taxes and we have given back time and again. Now our families are suffering without reason. These are unfair attacks against workers."
SEIU Local 1021 President Roxanne Sanchez called for the workers to be treated with justice, noting that, "City officials dragged their employees through a time-consuming and ugly labor dispute. There is room for both wage restoration and helping the city's long-term finances. That solution needs to be civilly agreed upon by the city and the union."
The Council imposed the latest round of cuts on workers in contradiction to a neutral, independent consultant, who recommended a reasonable contract.
The consultant, a factfinder picked by management, recommended a fair contract because the Hayward City Council routinely underestimates revenue every year, a poor management practice that allows unaccountable spending on pet projects. It is estimated that between 2010 and 2014, the Council collected $19.4 million in unanticipated revenue. From 2013-2018, this figure is expected to hit an additional $43 million, according to an independent economic analysis from the non-partisan firm Beacon Economics.
The Alameda County Democratic Party and Alameda Central Labor Council have both called on Hayward to negotiate honestly to reach a fair contract. Instead, on Feb. 18, the City Council imposed cuts on workers, in a 7-0 vote.
The next protest with the Hayward community will occur at the City Council meeting of Tuesday, March 18.