"We need this union," Santa Clara University worker tells the Working People podcast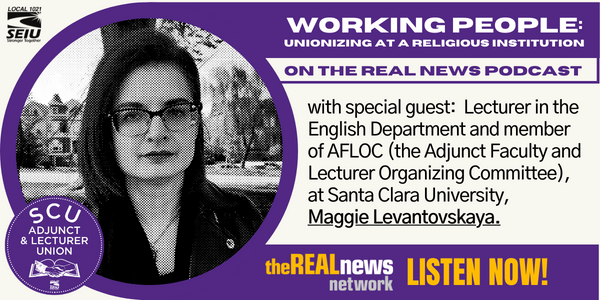 The Adjunct Faculty and Lecturer Organizing Committee (AFLOC) at Santa Clara University have worked since 2017 to organize a union. These workers want to address issues including the corporatization of higher education with so-called "just-in-time" labor practices that created a new class of contingently employed college professors with multiple "gigs." They're also concerned with campus safety, bringing worker justice to the school's social justice mission, wages, job security, and working conditions for the non-tenure-track faculty. These faculty members teach the majority of the university's courses. The region's skyrocketing costs of living have pushed some professors into poverty and homelessness.
In a recent mini-cast, The Real News Network Editor-in-Chief Maximillian Alvarez reconnects with former Working People guest Maggie Levantovskaya to talk about why NTT faculty have fought so hard for so long to get to this point and why organizing your workplace—in higher ed and beyond—is so important.
"We need this union," says Levantovskaya, "And we have needed it for years. Despite the university's stated commitment to social justice, we've seen huge challenges in our workplace. College instructors are workers and all workers need unions."