"We need to call it out!" We Have to Confront Racism Everywhere: As Union Members, That Starts at Work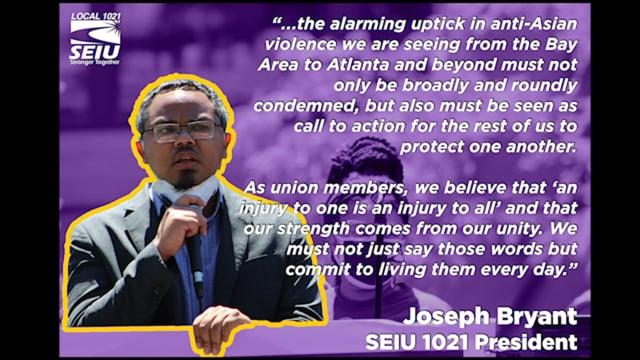 Click the video above to listen to SEIU 1021 President Joseph Bryant condemn the recent surge in anti-Asian racism and share some of his family's own personal experiences.
One of the many horrific effects of the COVID-19 pandemic has been a surge of violence against Asian American Pacific Islander (AAPI) communities. This surge has included a documented 700 incidents in the Bay Area, from Oakland's Chinatown to San Francisco's Anza Vista neighborhood.
After his statement last week, SEIU Local 1021 President Joseph Bryant sat down to discuss this and his bottom line was clear:
"We need to call it out," Joseph said. "We have so many folks that are hurting. Our membership is one of diversity. When we see hate like this, we as labor, and we as human beings, have to stand up, have to denounce it."
For union members, a crucial place to begin is at work. Professor Paul Frymer of Princeton University said, "…labor is really one of the largest, if not the largest civil rights organization in the country." At our jobs, we meet people who are different than us and discover the things we have in common while we work together. We must continue to insist on equal protections and equal treatment at work, in our contracts, and in the ways that we speak and act.
Unions like ours fight for equality for everyone, and that starts with personal responsibility to show solidarity. "Any time we see this type of hate, we need to be prepared to be there for one another. We are brothers, sisters, and siblings through our union. We need to be there to defend one another," said Joseph.
For President Bryant, the first step in addressing the epidemic of racist violence is the same, whether we're at work or not. "Education, awareness, and unity, which are essentially the foundation of what the labor movement is about. We bring a lot of folks together for the same common good goals, with the same approach and with the same objectives." When we take this step together, as union members at work and community members everywhere else, we make our workplaces and communities better.
Bryant's message for all of us is stark and true whether we're at home or at work: "We're human beings. We are all one."
To learn more and get involved, join the SEIU 1021 Asian Pacific Islanders Caucus on Facebook.