We did it! HR360 workers reach historic first Tentative Agreement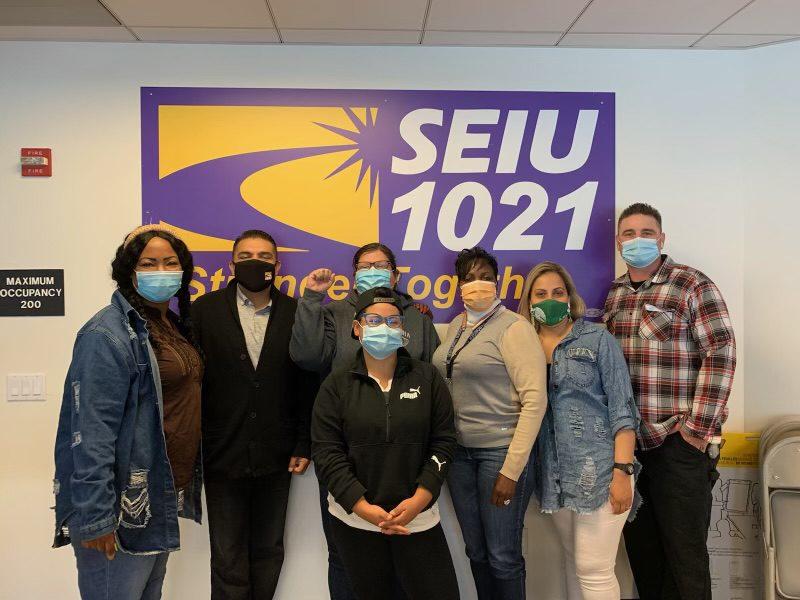 Huge news—incoming SEIU 1021, 721 and 221 members at HealthRight360 officially have a Tentative Agreement for their first union contract! This historic victory for our union and for non-profit workers in California was made possible by solidarity and hard work from hundreds of HR360 workers up and down the state of California.
Workers secured a strong 2-year agreement that includes significant improvements and protections for workers, and the bargaining team is recommending a YES vote on this Tentative Agreement. In-person voting to ratify the contract is scheduled to be held in the coming weeks.
"This first union contract is a huge win for HR360 workers, our clients, and for HR360 as a whole. I am so proud of our bargaining team and of all our coworkers for the hard work that we have put into building our union and raising the standard for workers in our field. Our clients always come first, and our well-being as workers is integral to the care we provide- this union contract is just a first step in strengthening our commitment to the communities that we serve. I proudly recommend a YES vote," said Nakia Holmes-Dominick, an HR360 Health Worker from the Isolation and Quarantine Hotel Site 16 in San Francisco.
Here are the details of the Tentative Agreement below:
Compensation

3% raise for everyone retroactive to July 1, 2021, plus another 3% raise starting July 1, 2022.
If joint political work with SEIU and HR360 succeeds in increasing HR360's contract funding, money gets passed on to workers.
A statewide minimum wage of $18/hour, which will raise up the lowest paid 15% of workers with additional raises of up to 20%.
Fixing bilingual pay so it's transparent, ongoing, and portable.

Holidays and PTO

Adding Juneteenth as an additional paid holiday for everyone.
Double time pay for working on holidays.
Fixing PTO accrual so people accrue PTO while they are on PTO and on admin leave.
An extra day of PTO for everyone with less than 2 years of service.

Job Security

All represented workers have a right to representation in investigatory/disciplinary meetings
HR 360 must use Just Cause standards for discipline; employees are no longer "at will."
Limits on the use of admin leave during disciplinary investigations.
Layoff protections—notice to the union, the right to bargain over the effects, layoff by seniority, right to transfer within the agency.

Strong Union

Establish a Labor-Management Committee where we can work together to discuss and resolve workplace issues with management
Grievance procedures to enforce the protections of our union contract.
Binding Arbitration to ensure independent third-party decision-making on big cases.
Union Security protections for a strong union that includes everyone.

Career Advancement

Preference for internal candidates for vacant positions.
Tuition benefit of $250 for all staff needing CEUs/CMEs, with extra ed leave and tuition benefits for clinic staff.