Want to sharpen your skills as an organizer or get involved in our work helping workers form and join unions for the first time? NEMO is the program for you.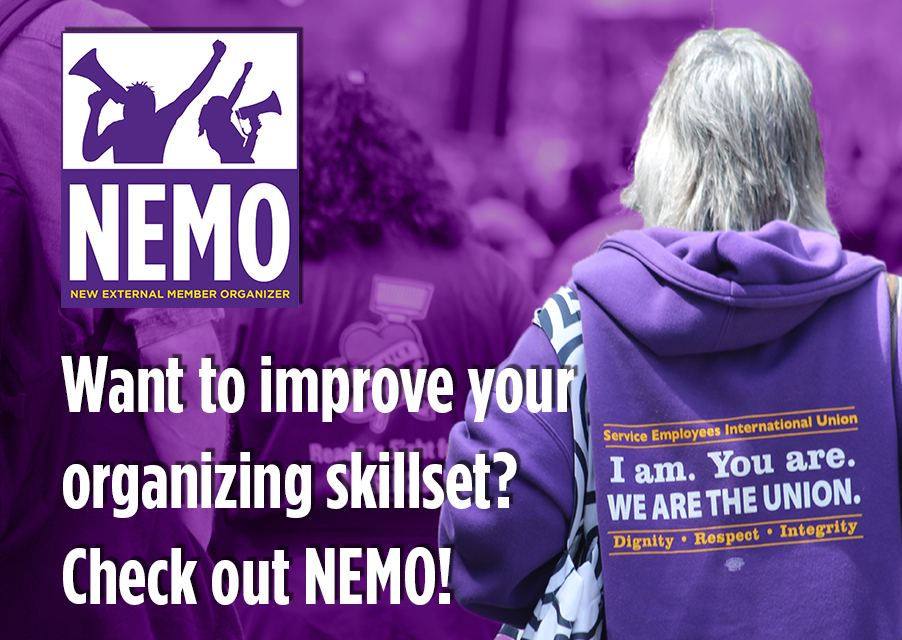 SEIU 1021 is an organizing union—that's why we are building a new program called the New External Member Organizing program, or NEMO. The NEMO program creates opportunities for existing SEIU 1021 members to get involved in our community outreach and our efforts to help nonunion workers organize their workplaces and become members of SEIU 1021. It doesn't require a huge time commitment and it's easy to join.
"Though I serve as VP of Organizing, I am daily learning how to be an organizer. The first time I knew I was organizing was when I gathered with a group of my colleagues to protest the closure of beds for our clients. We held the first meetings in the workplace since the early 2000's and when we came together we built power and prevented layoffs in addition to bed closures. I want to share that victorious feeling with all my 1021 siblings. Join NEMOs at these events to build community and strengthen your skills," says Jennifer Esteen, SEIU 1021 Vice President of Organizing.
There are a number of events coming up for members who want to get involved. For more information reach out to Jennifer.Esteen@seiu1021.org or by text (415) 218-9675.
There are a few actions coming up this month that are a great way to get active with our NEMO team:
Saturday, May 15

AAPI Heritage Celebration event in Oakland at Frank Ogawa Plaza from 11 am -1 pm (flyer)

Tuesday, May 18

We're helping facilitate a virtual town hall meeting on closing the racial wealth and financial access gap, from 4 – 5 pm. The town hall will feature workers, community partners, Oakland-based spoken word artist Darius Simpson, and assembly members who are co-authors of AB1177.

Wednesday, May 19

We'll be taking action to support McDonald's workers in the Fruitvale and in San Francisco who are fighting for safe working conditions and fair treatment. If you prefer to stay in your car, we'll be temporarily blocking the drive-through during the rally.

The Fruitvale action starts at 8:45 am and will be done by 10 am.
The San Francisco action starts at 12 pm and will be over around 1 pm.
For more information reach out to Jennifer.Esteen@seiu1021.org or by text (415) 218-9675.