Video Killed the Radio Star, but Automation May Kill Public Radio Station 91.7 KALW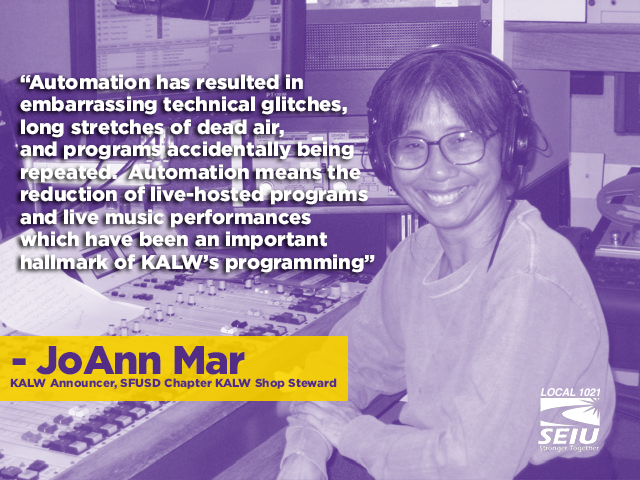 On Tuesday, January 26, 91.7 KALW staff joined radio hosts and unionized musicians from across the country to speak out at the SFUSD school board meeting against staff cuts and automation at the local station in an attempt to save public radio at KALW. Over the last year, local radio station 91.7 KALW has been making not-so-subtle changes to their live broadcast programming and announcing staffing.
"Automation has resulted in embarrassing technical glitches, such as long stretches of dead air, the wrong programs being broadcast, and programs accidentally being repeated. Automation means the reduction of live-hosted programs and live music performances which have been an important hallmark of KALW's programming," said JoAnn Mar, a KALW Announcer and SEIU 1021 Shop Steward.
KALW member-supporters are also feeling the shift to automated programming going as far as submitting hundreds of written listener complaints to the station over the cancellation of regularly scheduled live broadcast shows like Folk Music and Beyond which is hosted by long-time KALW announcer JoAnn Mar.
"All the folk artists in the Bay Area depend on DJs who support us. Our livelihood has been greatly affected by the pandemic," San Francisco-based singer-songwriter Pete Kronowitt was quoted as saying in a story from the SF Examiner. "Automating KALW will have a drastic and negative effect on the music scene."
KALW public radio station has become a pillar in the Bay Area music scene by creating opportunities for underground musicians to access radio and audiences they would otherwise be shut out from. We will continue to fight for our members at the station and for the communities that treasure live music programming.