Urgent Bargaining Update: OUSD Management Continues to Ignore Our Need for Livable Wages & Safe Working Conditions.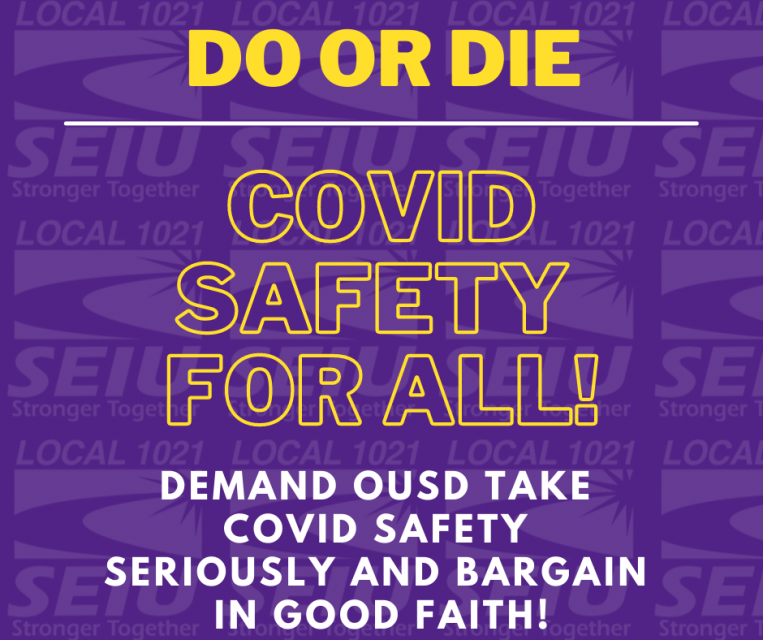 November 4, 2021: Your SEIU 1021 OUSD bargaining team has been hard at work since our last bargaining update. However, despite our best efforts, OUSD management is digging in and refusing to negotiate in good faith.

Here's the latest:
Your union bargaining team has submitted 28 proposals to OUSD management.
OUSD management has offered only 1 proposal, hindering member attempts to use sick leave.
OUSD management has only responded with 3 counter proposals.
OUSD management continues to ignore the urgency of student and staff COVID safety.
OUSD management refuses to bargain in good faith, as they only agreed to 1 day of bargaining in November.
What Can Members Do?
Join the Contract Action Team (CAT) to help distribute information regarding our contract. Email Gary Jimenez & Sandra Lewis to join: gary.jimenez@seiu1021.org, sandra.lewis@seiu1021.org
Sign & share our COVID-19 Safety Petition.
Make a public comment at the next OUSD Board of Education meeting to demand the District bargain in good faith and take COVID safety seriously.