United We Stand
It's Time for the clean DREAM Act. Protect undocumented youth. Say NO to a Border Wall, Say NO to dangerous enforcement add-ons.
In the coming months, the Administration will decide the fate of 1.2 million people currently living, working and studying with permission under the Deferred Action for Childhood Arrivals (DACA) or Temporary Protected Status (TPS) programs.
Call 1-866-584-3962 and tell your members of Congress that hard-working Dreamers and TPS immigrants deserve the opportunity to be productive members of society.
1.2 million people's lives hang in the balance. Congress must act to pass a clean Dream Act and save TPS. Call your member of Congress NOW and demand they take action TODAY. Call now: 1-866-584-3962.
Use the Hashtags: #SaveTPS #cleanDreamAct to let us know you've taken action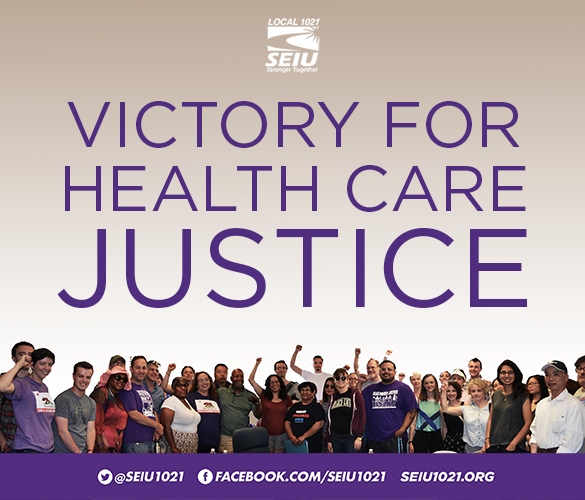 After months of pressure from SEIU members across the country, hundreds of allied organizations, and thousands of individuals of all political persuasions, the effort in Congress to repeal the Affordable Care Act failed late Thursday night.
"SEIU 1021 members knew this repeal would be devastating if it passed, and we sprang into action right away. We made phone calls to members of Congress and attended town hall meetings and protests," said nonprofit worker and SEIU 1021 Vice President of Politics Alysabeth Alexander. "Our testimony about our family members, clients, and patients illustrated the suffering that would occur from kicking those with preexisting conditions off of healthcare plans, or placing lifetime caps on coverage. It was all of our voices raised together that stopped this repeal in its tracks," continued Alexander.
This was a victory for the labor movement, and a testament of the strength of the coalition of diverse groups that formed to save health care for 32 million people, and the jobs of those who care for them. Kicking these people off their plans would have made plans for those retaining coverage even more expensive.
We have learned that politicians will serve the wealthiest people in this country at our expense unless we make our voices heard. When SEIU members join together we can beat back even the most well-funded attacks. This effort was made possible by COPE membership, a voluntary contribution that SEIU members make to build political power for working people locally and nationally. When we take on politicians who do the bidding of Wall Street instead of Main Street, we depend on the strength of SEIU COPE to hold them accountable.
We have learned how to win. Now, let's make sure we hold Congress accountable as they take up the federal budget. We need to keep fighting to make sure that budget reflects priorities of working people, and that includes protecting crucial programs like schools, infrastructure, Medi-Cal (Medicaid) and Medicare. We need you to join with us to take this fight to the next level!
Know Your Rights: What to Do When ICE Comes to Your Workplace
As public sector workers in state, county and city agencies, school districts, public hospitals, libraries and courts you play a vital role interacting with the public and sometimes have access to databases with personal information.
As a result, your worksites and the information you gather may be sought out by Immigration and Customs Enforcement (ICE). This, coupled with the uncertainty about how the current presidential administration will be enforcing immigration laws, has led to a lot of confusion and questions by workers like you.
Learn your basic rights as public sector employees:
Download the Public Sector Worker Immigration Toolkit here (PDF)
Immigration
All people in the U.S., regardless of immigration status or citizenship, have rights under the Constitution and other laws. Common-sense immigration programs are under attack, and thousands of California residents are being targeted with community raids. Families are being torn apart, while immigrants with no criminal record are being detained.
Learn more about the laws that protect you and your loved ones. Know your rights!
Visit iAmerica.org/know-your-rights (resources available in English, Spanish, Polish, Korean, Tagalog, Chinese, Vietnamese, Khmer, Hindi and Haitian Creole)