United We Stand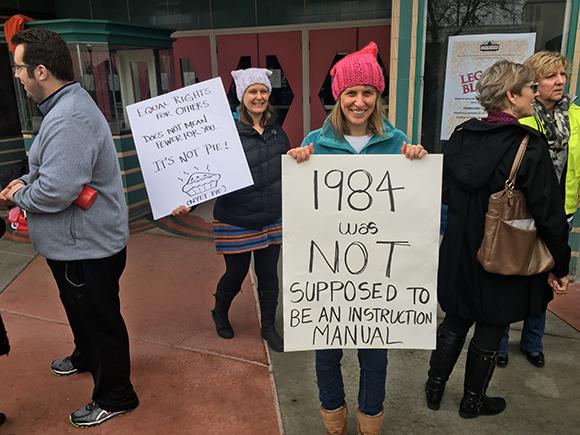 Last fall's election served as a wake-up call to millions of working people nationwide whose previous political activity began and ended with voting. But with the new and unprecedented threats to economic stability, health care, civil rights and civil liberties of the vast majority of the country, citizen activists are rising up to resist the repressive changes coming from Washington.
SEIU members and our allies have been at the front lines of the resistance-and we are making a difference. By building networks and mobilizing our members and supporters, we have been able to respond on short notice to multiple threats on multiple fronts.
Last weekend, we joined over a thousand people at a town hall in Roseville held by Rep. Tom McClintock. The Republican congressman was likely expecting a warm welcome in the population center of his solidly-Republican district, but that assumption ignores this fact: The agenda that McClintock supports offends Americans' labor and social justice values, and the fiscal responsibility priorities that have guided generations of Republicans.
Constituents in his district held signs such as "Resist" and demanded the congressman withdraw his support for the repeal the Affordable Care Act, acknowledge the scientific consensus on climate change and oppose Trump's disastrous executive order barring refugees and others from the U.S.
Similar actions were held at the offices of Rep. Paul Ryan in Wisconsin and Sen. Deb Fischer in Nebraska. Communities are uniting and organizing more actions during the next congressional recess, which begins the week of Presidents' Day.
Some resistance activities have been massive in scale. The weekend before the McClintock protest saw a massive, spontaneous, multi-site protest against the anti-Muslim travel ban. With last minute calls from organizers, thousands of people camped out and protested at airports. Their presence exposed the ugly discrimination in the travel ban and fought hate with compassion. Within a week, a judge's order had temporarily halted the ban and legal challenges to its constitutionality poured in from across the country.
These sorts of stunning, massively attended resistance actions are happening across the country and SEIU members are there every step of the way, using our experience and resources to guide a new generation of activists. We are making the calls to get people out to actions. We are using our connections with the press to get our members' stories told. And, as a union that has been working to fight all forms of oppression and injustice for years, we are there to help people draw the connecting lines between racial, economic, climate and immigrant justice.
Though the threats we face are daunting, SEIU 1021 members are standing up for justice in our worksites and standing up for justice in our communities. Now we are standing up again: for justice everywhere, for everyone. We will continue to lead because we can and we must. And we will prevail.