Uber & Lift Drivers Take Their Fight for a Livable Wage to Investors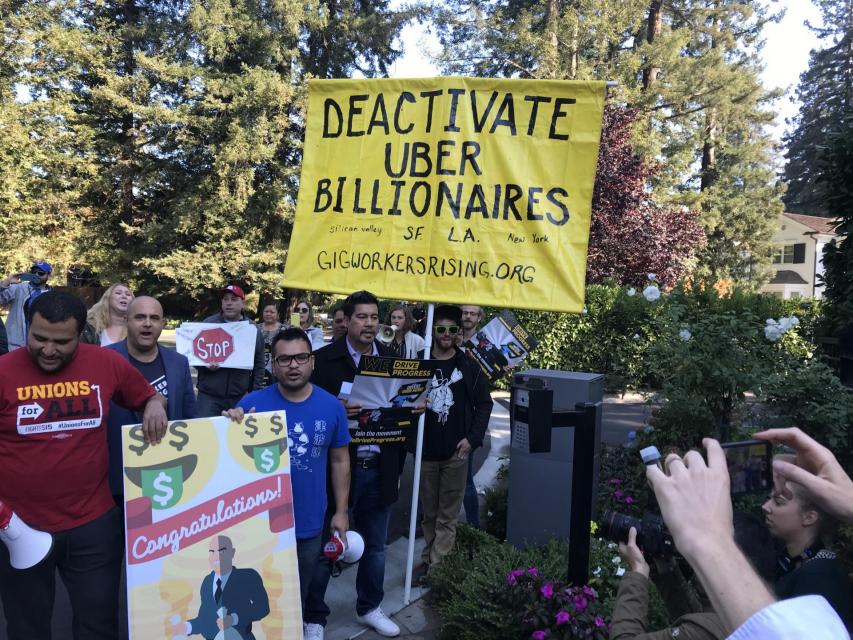 On November 6, hundreds of Uber & Lyft drivers from the We Drive Progress coalition staged protests across California to draw attention to the awful treatment, pay, and benefits hurting these workers across California.
"I have two herniated discs in my back, which makes being in the car very painful. But I have to drive to make ends meet. I also have to drive because I am responsible for taking care of my father," said Raul Flores, who has been driving for around 3 years."If we had fair pay, benefits, and a union, I'd be able to get physical therapy."
November 6 was the first day investors were able to cash out of Uber since it went public in May. During protests outside of Google Ventures in San Francisco and Uber board member Bill Gurley's home in Atherton, drivers contrasted the lavish homes and offices of investors and the impoverished reality of their own lives.
"We invest our time and energy and without us, these companies and their investors would not make billions of dollars as they do," said Uber driver David Portera."We use our cars, our insurance, our gas, our tires, and our oil. We're amongst the biggest investors in these companies and yet we receive the least. That's why drivers are fighting for a voice and a union.
SEIU 1021 members support #UnionsForAll because we know our collective strength is what allows us to make a positive difference for our families and communities. Standing with rideshare drivers is important because when we help lift these drivers up in their fight for fair pay and treatment, it raises the floor for workers everywhere and helps us protect and improve the standards we fight for and have won in our own workplaces.
This company went from being a start up just a few years ago to being a billion dollar behemoth on the backs and shoulders of the workers. Today, executives get to cash out millions and millions of dollars but what are they doing for workers?"asked SEIU 1021 President Joseph Bryant."We cannot allow these million and billion dollar corporations to set the rules for workers. Workers have to set the rules for workers."