Uber and Lyft Drivers Organize Caravan Outside Uber HQ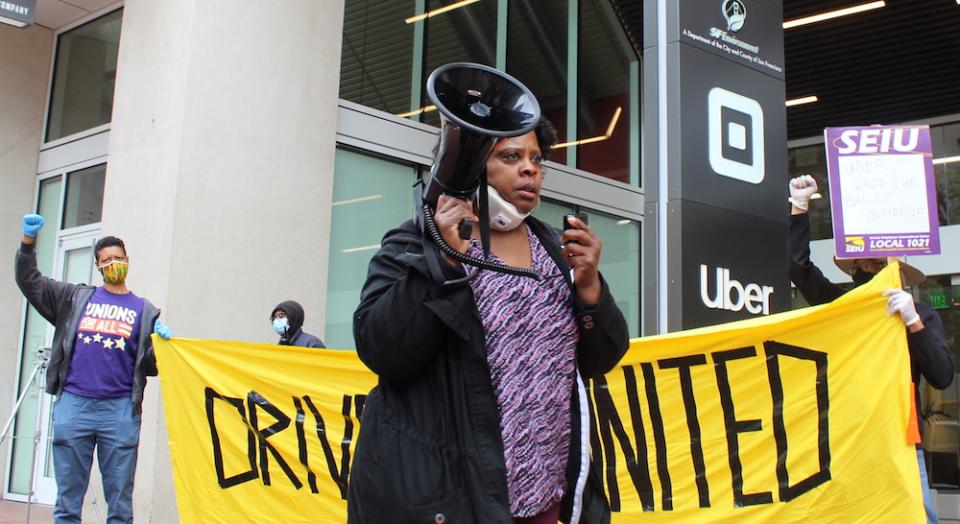 App-based drivers across California and the nation are struggling to work safely and make ends meet in the midst of the COVID-19 pandemic. That's why on Monday, immediately following Uber's virtual shareholders meeting, SEIU 1021 members joined SF Supervisor Rafael Mandelman and our union siblings from the SF Labor Council in supporting rideshare drivers with the We Drive Progress driver advocacy group during their caravan.
For nearly an hour, over a hundred cars circled Uber's HQ on Market Street, with drivers honking and chanting through their windows.
Drivers are calling on companies like Uber, Lyft, and DoorDash to drop the $110 million dollar ballot initiative they're helping to fund which aims to repeal Assembly Bill 5 (AB5), the California law clarifying that companies like Uber and Lyft must offer drivers basic worker rights and protections.
"Drivers like me have stayed on the job during this pandemic to keep our communities going and to take care of our families but we are struggling every day without basic protections because Uber refuses to follow the law. Instead of providing drivers like me proper protective equipment to keep riders and drivers safe, paid sick leave, health insurance, and a living wage, Uber is spending millions on a misleading ballot initiative to write themselves out of the law requiring them to do right by drivers. They are spending millions to keep getting a free ride off of California taxpayers by refusing to pay into California's unemployment insurance fund or respect our rights under California law," said Uber driver and WDP activist Saori Okawa.
These rideshare drivers transport frontline workers like many of us to and from worksites, hospitals, health clinics, and more. But without adequate PPE or basic worker protections, they are struggling with the impossible choice of putting themselves at risk by driving through the pandemic or facing severe food and housing insecurity.
That's why drivers were demanding that Uber, Lyft, and other app companies take the $100+ million they've committed to repealing AB and invest it into direct relief for drivers who are worried about making ends meet.
Press clips: