As Trans-Inclusive Clinic Confirms Closure, Advocates Rally For Emergency Funds From The City to Keep It Open
The emergency funding from the City will ensure the survival of the one of few clinics providing gender-affirming care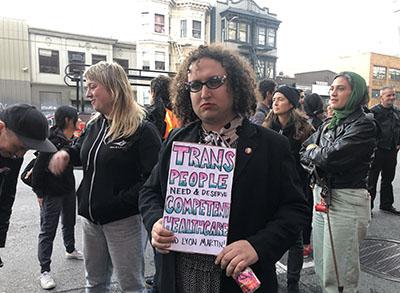 On March 12, more than 150 nurses, providers, supporters held a rally to demand the City of San Francisco provide $1.4 million in emergency supplemental funding to stabilize Lyon-Martin and the Women's Community Clinic, a trans-inclusive primary care clinic in the Mission.

Clinic staff was informed by administrators of HealthRIGHT 360 that they were moving the services of Lyon-Martin and the Women's Community Clinic from the 1735 Mission St. location to HealthRIGHT 360's main headquarters, at 1563 Mission Street.
"Lyon-Martin Health Services and Women's Community Clinic, programs of HealthRight360 are currently facing a 90% reduction in services and relocation to an unsafe environment for patients and staff on May 1, 2020. Healthright360 is proposing a consolidation with Integrated Care Center, severely limiting our hours and laying off staff, thereby drastically cutting access to life-saving care for cis-gender women and trans, non-binary, and gender nonconforming clients," said JM, Trans Health Consultant for LM/WCC
The clinics' workers and supporters are asking to the Mayor's Office, the Department of Public Health, and the Board of Supervisors for funding to keep the clinics open.

"We are in a public health crisis and a public health crisis is no time to be closing care clinics like Lyon-Martin," said District 8 Supervisor Rafael Mandelman at the rally.

The need for services at Lyon-Martin/Women's Community Clinic is rising. The clinic saw about 3000 patients in 2019, an increase of over 70% from 2017. There is a lengthy wait for gender affirming mental health services within the clinics. The patients are 60% people of color, and half below the poverty line, mostly women and trans men. Approximately eighty percent of patients experience mental health diagnoses.
"We are asking Mayor Breed and the SF Board of Supervisors to allocate emergency funding to sustain services at Lyon-Martin Health Services and Women's Community Clinic for two years while we strategically plan for long-term sustainability and transition to operating as an independent clinic. The funding from the City will ensure the survival of our unique mission driven clinics so that we can continue providing queer and trans competent primary care and abortion services to our most marginalized communities regardless of ability to pay in a vibrant and welcoming environment. We provide services that no other clinic in the City provides. Our patients come from all over the state, country, and even the world to access services due to the lack of queer and trans-competent clinicians," said JM