Thousands of SEIU 1021 members and other Bay Area union workers took to the streets to celebrate International Workers' Day on May 1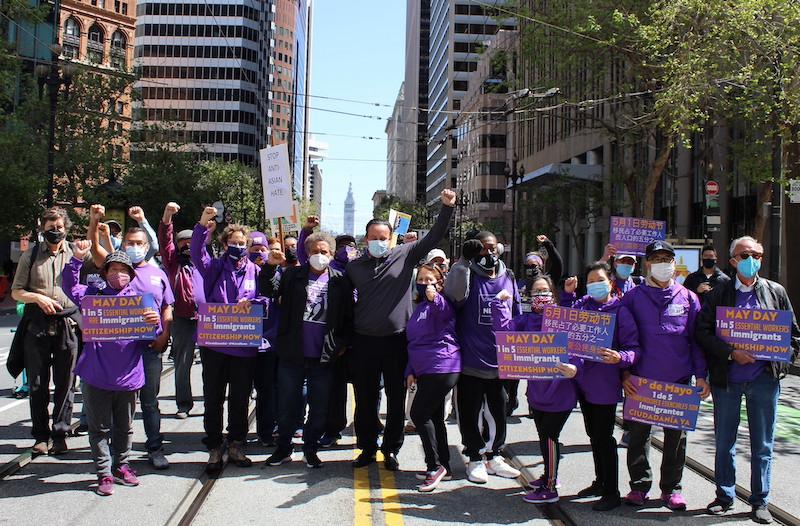 On May 1, people across the globe took to the streets to celebrate International Workers Day and support unions and working people. In Northern California and across the country, May Day celebrations called for the passage of the Protecting the Right to Organize (PRO) Act, which will empower workers to exercise our freedom to organize and negotiate for better wages and working conditions.
The event in San Francisco also focused on combatting the triple threat of rising income inequality, racial injustice, and COVID-19, all of which have hit working families the hardest. Many of our members have continued to report to work on the frontlines of this pandemic, risking their health and safety, to care for and support our communities.
"I do hope it changes some of the thinking, the mentality, to say that we're not just essential through the pandemic. We were essential before, we're essential through the pandemic and we'll be essential after," Joseph Bryant, President of SEIU Local 1021, told CBS San Francisco.
For Brandon Dawkins, the SEIU 1021 SF Area Rep for San Francisco and a member of our unions' Executive Board, May Day was also a chance to reflect on the state of the labor movement. "It felt great being out with all of the other unions showing solidarity in the labor movement, celebrating International Worker's Day. At a time where our country is trying to heal from the divisiveness of the last several years, the May Day celebration helped bring working people together to celebrate union labor. It was also an important reminder that the working class needs to have strong unions so that workers can be protected and not taken advantage of by billionaires and corporations who want to exploit us for their own profit. Union workers need to continue to show that we have all of the power when we come together, fight together, and win together."
After the May Day march, Brandon also shared his thoughts on his own experience as a member and officer in SEIU 1021, saying, "My personal journey as a leader in the labor movement has allowed me to connect with so many other union leaders across this country who share the same struggles as myself and other siblings in this movement. It means more than a lot to me because every day, I wake up and fight, knowing that I am not alone and that we have a responsibility to make the path a little clearer for the next generation of workers in the labor movement. This is also the reason why we must support HR 842, or the PRO Act. This kind of legislation will make it harder for employers to violate labor laws and abuse workers, while helping working-class folks like us have the right to organize, fight against unfair working conditions, and earn the living wages we need."

You can check out photos from the SF May Day celebration on Facebook.